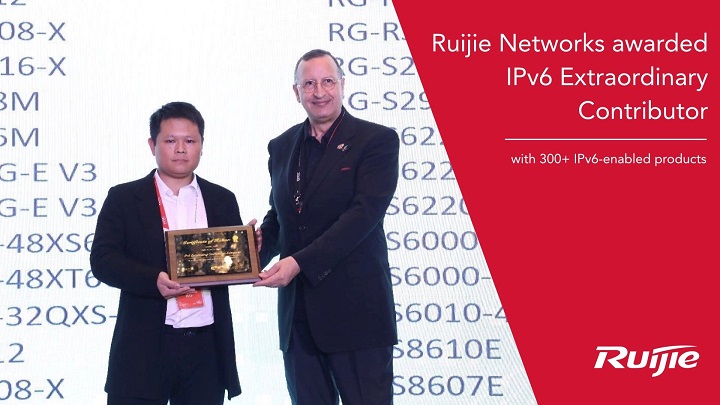 On October 23th, IPv6 Forum named Ruijie Networks the Leading Enterprise with Extraordinary Contributions to IPv6 on GNTC Global Network Technology Conference 2019. Latif Ladid, Chairman of Global IPv6 Forum, presented this award to Ruijie in recognition of Ruijie's active promotion of IPv6 deployment, whose products deliver great support for IPv6 and acquire quite some IPv6 Ready Logos.
Ruijie has comprehensively reinvented the R&D and deployment of its products and solutions since 2018. During the tests of the actual business scenarios, Ruijie Networks is realizing that IPv6 revamp is way beyond a simple routing connectivity. Challenges such as security audit resulted from changes to stateless addresses, rapid dual-stack authentication across the network, and preventing starvation attack for IPv6 addresses need to be fully considered before the design phase.
Every IPv6 solution from Ruijie Networks has given full consideration to security, feasibility, user experience and anti-attack. All IPv6 solutions are refreshed with SDN technology, covering dual-stack authentication, protection against intranet attacks, prevention of IP address spoofing and real-time audit of IPv6, visualization of IPv6 and more.
4 Strengths of Ruijie IPv6 Solution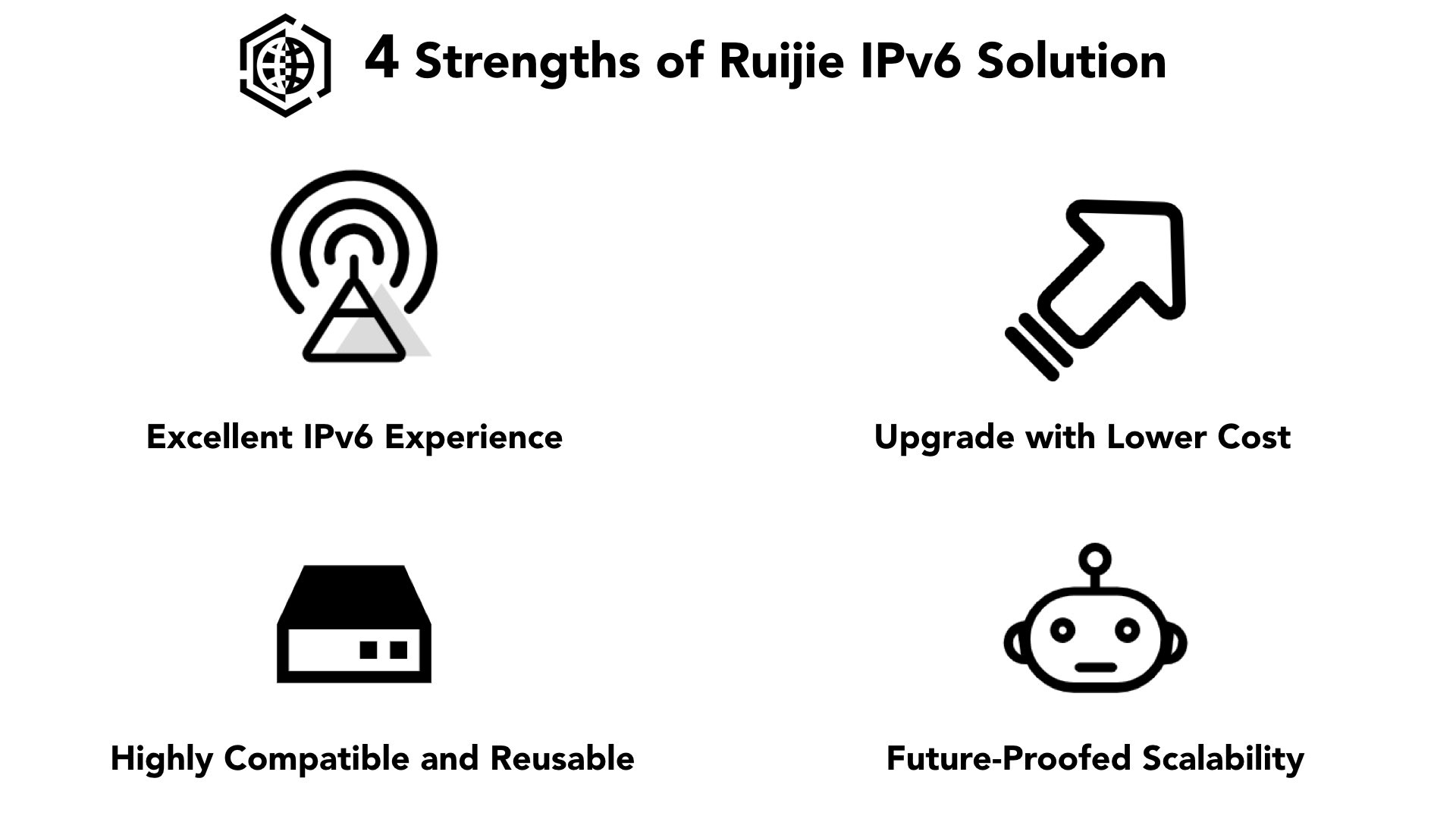 Excellent IPv6 Experience
Dual stack authentication within seconds and real name authentication are made possible via CPU distribution technology with SDN.
Upgrade with Lower Cost
The switch and upgrade of the solutions can be completed with one single device across the entire network. With SDN automation technologies, businesses can automate the revamp of the entire network at scale, avoiding long cutover or unstable business factors caused by human errors.
Highly Compatible and Reusable
One single RG-N18000 switch is simply enough to complete the business deployment across the entire network, without any need for binding access, convergence or authentication servers.
Future-proofed Scalability
All solutions are highly scalable. The designs based on IPv6 can meet the expansion requirements for AI, Big Data and other cutting-edge applications.
Starting from 2015, Ruijie has been introducing a complete portfolio of IPv6 networking products ahead of its competitors. Now Ruijie has 11 product lines and 300+ products, including switches, routers, security, egress gateways, wireless, application systems, IT management, cloud products and more, all of which are IPv6-enabled.