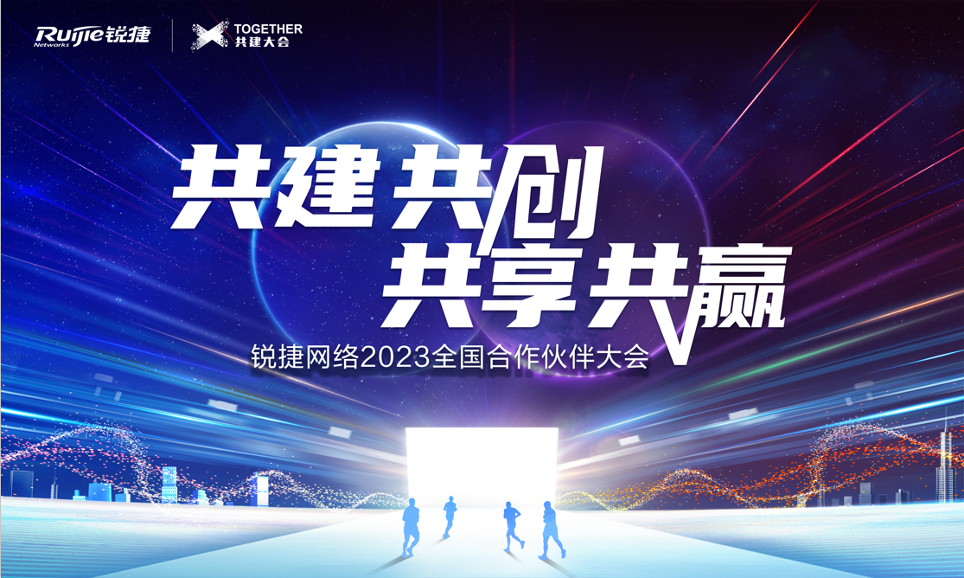 [Changsha, China, April 7, 2023] Ruijie Networks kicked off the 2023 National Partner Conference with the theme "Build, Create, Share, and Win Together" in Changsha. This conference marked a new milestone after the official launch of partner cooperation conference in the industry in 2019. Ruijie Networks renewed its mission and vision and launched the "Build Together 4.0 Strategy" to further cooperation with partners. It also released a series of innovative product solutions including "One DC for Three Networks, One Cloud for One Classroom".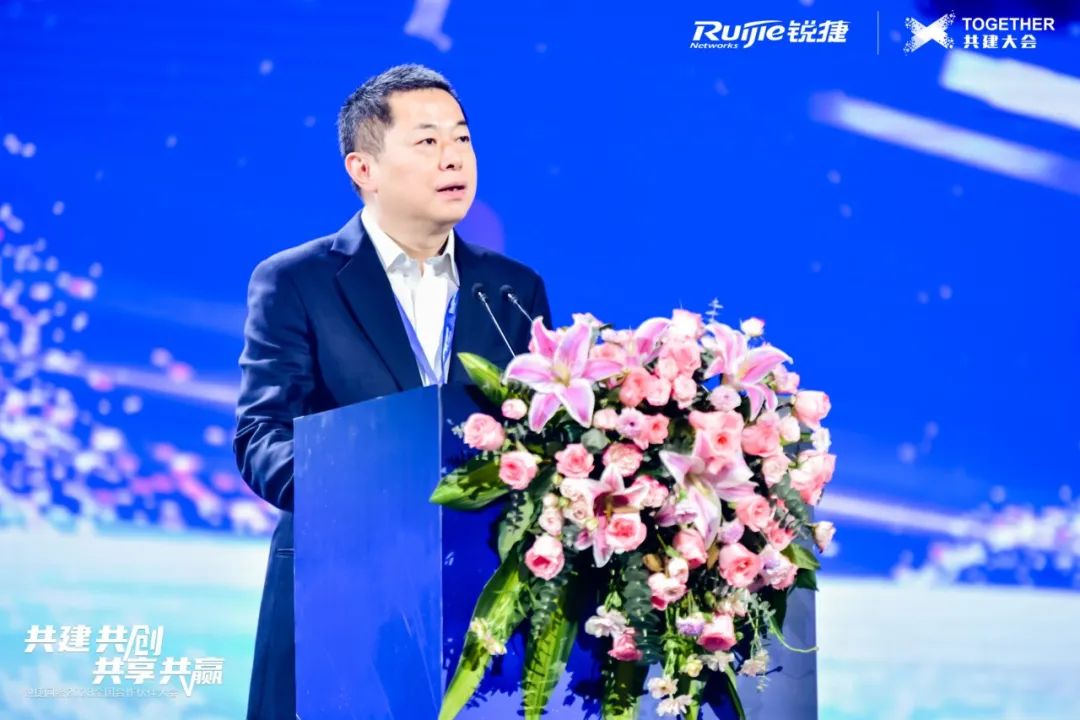 Liu Zhongdong, president of Ruijie Networks, said, "The robust growth of Ruijie over the past 20 years is due to continuous R&D innovation and adherence to our mission of "Integrating technology and application to creatively solve customer problems". By investing consistently in research and development, Ruijie Networks is constantly improving its technological expertise and innovating its capabilities. This has led to a remarkable resilience and vitality in today's volatile market environment, with a series of innovative breakthroughs in the data center switches, campus network construction, wireless networks, cloud desktops, network security and other key areas. To meet increasingly challenging economic and market demands, we prioritize strengthening our internal capabilities by adhering to our established strategic plan and continuously improving our innovation and operational efficiency. We believe that our partnership strategy of "co-building and sharing" is the right path for achieving fruitful collaborations and synergistic development with our partners. Through this conference, we will reflect on our partnership history, share our growth and achievements, consolidate our experience of "co-building and sharing", and explore further opportunities for collaboration to generate greater value for our joint efforts.
This partner conference is also the first major event since Ruijie Networks introduced the "2023 New Action" plan. Ruijie launched this action plan as the first year of "New Journey and New Beginning" after the listing. The plan is based on three key cornerstones: "brand image enhancement," "product innovation," and "partner expansion." Its aim is to bring new opportunities, capabilities, and values to investors, customers, and partners by enhancing Ruijie's innovation effectiveness.
Enhancing our brand image, revitalizing our vision, and taking our company to the next level
"Enhancing brand image" is one of the important cornerstones of the "2023 New Action" plan. In the cloud network era, customer needs are constantly changing, and Ruijie Networks has responded by re-evaluating the essence of innovation and collaboration, and renewing its corporate mission and vision. The previous mission of "promoting the development of network technology, leading the wave of network applications, and fully integrating technology and applications" has been transformed into a new mission of "creatively solving customer problems through the full integration of technology and applications." Moreover, the company's vision has shifted from "creating a world-class national brand" to "becoming a world-class industrial leader." Through this process, Ruijie is rapidly reshaping its brand image and taking its business to the next level.
The new mission and vision of Ruijie Network also reflect a deeper understanding of the concept of "win-win cooperation". This is precisely the goal that Ruijie Network aims to achieve through partner expansion and product solution innovation.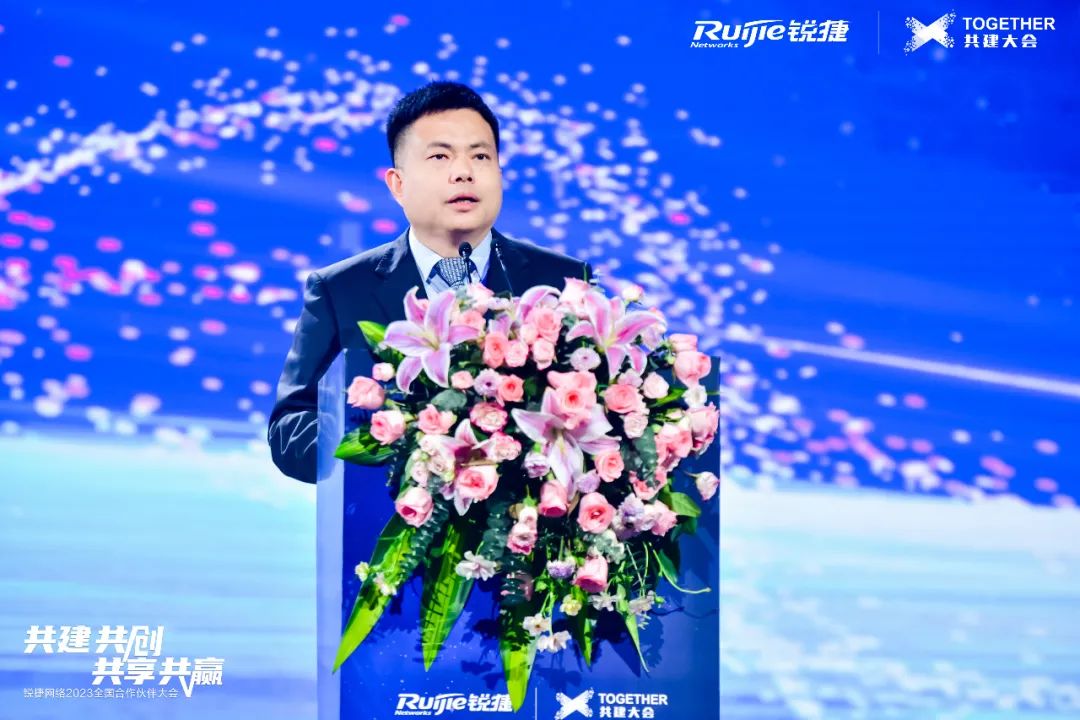 According to Huang Yuhui, the Vice President of Ruijie Networks and General Manager of the Enterprise Network Division, the key to achieving a win-win situation is to have competitive products and solutions. Ruijie Network's core strategy involves fully integrating technology and applications to creatively solve customer problems and build differentiated solutions, which helps its partners to take the lead in this area. The "Build Together 4.0 Strategy" released by Ruijie not only shapes the company's principles of partnering, but also enhances its cooperation strategy. Building upon the core concept of cooperation, we have established a dedicated Customer Development Department to enhance communication with and empower our partners.
Exploring New Partnerships to Implement "Build Together 4.0 Strategy"
Since 2019, Ruijie Networks has been committed to its "Build Together" strategy, starting with the release of "Build Together 1.0" to define the concept of collaborative building. In 2020, the company continued to promote this strategy with the release of the "Build Together 2.0," which focused on standardization and tools to further the "Build Together" strategy. In 2021, the company unveiled the "Multi-dimensional Building Together Model", which enables more flexible and three-dimensional co-building of customers, scenarios, and products. Through these efforts, Ruijie Networks has continuously sought out new partnerships, upgraded the essence of co-building, and expanded the scope of collaboration.
Wang Gang, General Manager of the Channel Department at Ruijie Networks, stated that "Build, create, share, and win together" has become the new norm of cooperation for Ruijie in the new era. By working together to win customers, cooperation becomes easier, while synergizing and co-creating make cooperation closer. Sharing resources makes cooperation more open, and both parties winning together makes the cooperation sustainable in the long run. Since 2019, when Ruijie Networks put forward its "Build Together" strategy, Ruijie and its partners have continued to grow together to achieve a win-win situation. Over the past three years, Ruijie Networks has established partnerships with over 23,400 companies, launched more than 10,000 joint marketing activities, and built solutions for over 30,000 customers together with its partners. Today, Ruijie and its co-building partners share resources and benefits based on trust, and work together with an open, tolerant, and mutually beneficial mindset to build, create, share, and win together.
During the meeting, Ruijie Networks announced the launch of its "Build Together 4.0" strategy, which is based on the belief that "partner is customer" and takes the co-build concept to new heights. The upgraded "Build Together 4.0" strategy of Ruijie Networks is aimed at creating a dedicated team to support partners, establishing business rules to protect partners' interests, and developing product solutions that are tailored to the needs of partners.
Zhang Yi, the Deputy General Manager of Enterprise Network Division of Ruijie Networks, emphasized that Ruijie Networks is committed to creating a co-build customer cooperation model that can strengthen mutual trust, enabling partners to realize the benefits of cooperation with the vendor. The "Co-Building 4.0 Strategy" is designed to enhance the principles of cooperation between Ruijie Networks and its partners, which are mutual respect, adherence to integrity, and value as a priority. The partner strategy of Ruijie Networks will be based on this model to develop core partners and continuously build trust between the two sides. Ruijie Network aims to collaborate with its partners to build solutions that cater to the needs of their customers, and create scenarios that can benefit both parties. This will be the starting point for our cooperation journey towards mutual success.
Seven Innovative Product Solutions to Make a Difference
Innovation has been the driving force behind the continuous growth of Ruijie Networks. At the meeting, "Product Solutions for Partners," was released as an important aspect of the "Co-Build 4.0" strategy, which showcased the charm of "product solution innovation" in the "2023 New Action" through the concepts of "scenario innovation," "differentiation," and "win-win."
Liu Funeng, General Manager of the Enterprise Network Pre-sales Technology Department at Ruijie Networks, stated that "Ruijie's innovation has led to the development of numerous effective solutions, such as the innovative industrial wireless zero-roaming solution for scenarios such as enterprise production, warehousing, and logistics; the unique simplified Ethernet all-optical network solution that creatively solves the problem of campus networks under the trend of replacing copper cables with optical cables; and the time division multiplexed cloud desktop solution that creates a win-win outcome with partners. These solutions are a testament to the great effectiveness of Ruijie's innovation."
In the innovative product launch session, Ruijie Networks unveiled seven cutting-edge solutions including "One DC for Three Networks, One Cloud for One Classroom", showcasing its commitment to customer-centric innovation.
Switch
Ruijie Network's major release of Simplified Optical Ethernet Solution 3.0 showcases its creativity by integrating Ethernet color optical technology to provide exclusive GE/10GE network infrastructure for campus businesses. This solution offers high bandwidth, flexibility, and easy operation and maintenance through a simple network architecture of passive convergence and SDN technology. It can support future campus network business evolution for up to ten years, ensuring a seamless application experience and maximum ROI.

Wireless Solution
Ruijie Networks released the "Star Wireless 3.0 solution" under the theme of Full-Scenario Wireless Empowerment 4.0. This solution features an integrated photoelectric design, which overcomes network bandwidth limitations and is suitable for various indoor and outdoor wireless scenarios. It can assist customers in bridging the final 100 meters of wireless network construction. Moreover, Ruijie showcased its latest products and solutions such as the new Wi-Fi 7 and WIS cloud management platform.
Router
Ruijie Networks has launched the RG-N8000-R series core routers, which are designed for MAN and WAN applications. These routers were developed by Ruijie over three years, leveraging a variety of core patents. They offer impressive power, efficiency, intelligence, and agility. This solution is an ideal choice for government and enterprise industries that require an intelligent, simplified, and energy-efficient WAN infrastructure.
Data Center
The "Extreme X-Fabric 3.0" data center network solution is a collection of core products that are ultra-fast, lossless, intelligent, and low-carbon." This solution is designed to help customers build high-performance data centers in a fast, stable, and cost-effective way.
Security
Ruijie Networks' next-generation firewall, the Z8600 series, features three intelligent designs: intelligent outbound security, intelligent policy stewardship, and intelligent cloud empowerment. This firewall solution ensures that risks are contained and threats are prevented, while also effectively implementing security policies and streamlining operation and maintenance. Furthermore, it enables cloud experts to provide remote 24/7 security support, making security readily available whenever needed.
Cloud Desktop
Ruijie Networks' "Three-Engine 2.0 Cloud Desktop Solution" is an innovative solution that enhances user experience through high-performance and cost-effective GPUs while improving O&M management efficiency through desktop layering decoupling. With this solution, Ruijie Networks continues to lead the way in the field of cloud desktops.
Smart Education
Ruijie Networks' Smart Classroom 4.0 solution takes innovation to the next level with its full IP-based one-line architecture. This solution employs the Intelligent IP engine, native IP streaming cloud screen, and native IP streaming audio solutions to significantly simplify equipment and cables, and reduce construction and wiring costs. It provides an easier-to-use teaching operation experience, richer teaching mode expansion, and more efficient classroom operation and maintenance management. This solution redefines the new standard for smart classroom construction and leads the smart education industry with new trends.
Today, Ruijie Networks' commitment to "customer-centric innovation" and its partner-centered approach of "partners are customers" are driving the brand's comprehensive transformation. The "Build, Create, Share, and Win Together" spirit is gaining momentum, propelling a new Ruijie that is adept at innovation and collaboration to soar.