With wide application of AI technologies, there has been a growing demand for smart computing centers from enterprises and organizations. Across various industries, there is a shared desire to use AI technologies to improve workflow processes, enhance efficiency, and unlock greater value. This drive for technological and market advantages has sparked a competition in the construction of smart computing centers, encouraging enterprises and organizations to continually invest in and innovate towards building more robust and efficient network infrastructure.
The construction of smart computing centers has led to substantial growth in the optical module market, bringing about profound changes both in terms of technology and demand. With evolving application scenarios and rapidly increasing market needs, LightCounting predicts that the total volume of the optical module market will continue to experience sustained growth over the next five years.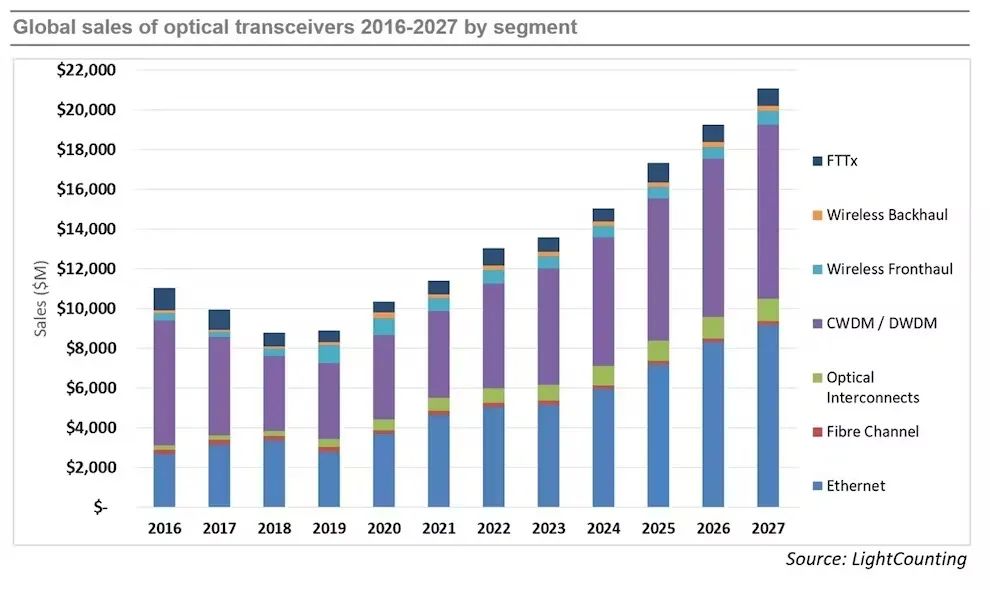 Source: LightCounting
Since its debut in 2007, optical modules have been continuously evolving. As the speed of optical modules increases, power consumption, cost, and size have become bottlenecks for further development. Additionally, with the rapid growth of smart computing centers, new requirements are being imposed on optical modules:
1. High-speed requirements: Smart computing centers need to handle large-scale data and perform high-speed data transmission and processing. Currently, commercially available high-speed optical modules, such as 100G, 400G, and 800G, are being continuously developed to achieve even higher data rates. In the future, optical modules will continue to evolve towards higher speeds to meet the ever-growing demand for data transmission.
2. Miniaturization requirements: Smart computing centers have high server and equipment density, requiring a significant amount of fiber optic cabling to connect various devices. However, traditional optical modules have limitations in terms of size and cabling density. To meet the demand for high-density cabling, optical modules are continuously reducing their size through advanced packaging technology and integrated circuit design. This enables higher port density and more flexible layouts.
3. Low power consumption requirement: Smart computing centers have high demands for energy consumption and management efficiency. The power consumption of optical modules is one of the key factors influencing the overall energy efficiency of an optical communication system. To reduce power consumption, optical modules incorporate more efficient optoelectronic devices, low-power driving circuits, and energy-saving packaging technologies.
4. Flexibility requirements: Smart computing centers have constantly evolving needs and require a flexible network architecture. The pluggable capability of optical modules allows for more flexibility and convenience in network configuration and upgrades. It allows users to select appropriate optical module types, transmission rates, and protocols based on specific requirements, catering to the diverse demands of various application scenarios.
Therefore, in the future development of smart computing centers, only optical modules that feature high-speed capability, miniaturization, low power consumption, and flexibility can provide more effective support for high-speed, high-density, and reliable optical communication systems.
However, currently, traditional high-speed optical modules utilize Digital Signal Processors (DSPs) for processing of high-speed signals. Although DSPs offer functions such as digital clock recovery and dispersion compensation, enabling signal recovery with lower error rates, it also brings higher power consumption and cost. For instance, in 400G optical modules, the 7 nm DSP consumes around 4 W, accounting for 50% of the entire module's power consumption. According to data from Macom, the power consumption of 800G multi-mode optical modules with DSP functionality can even exceed 13 W.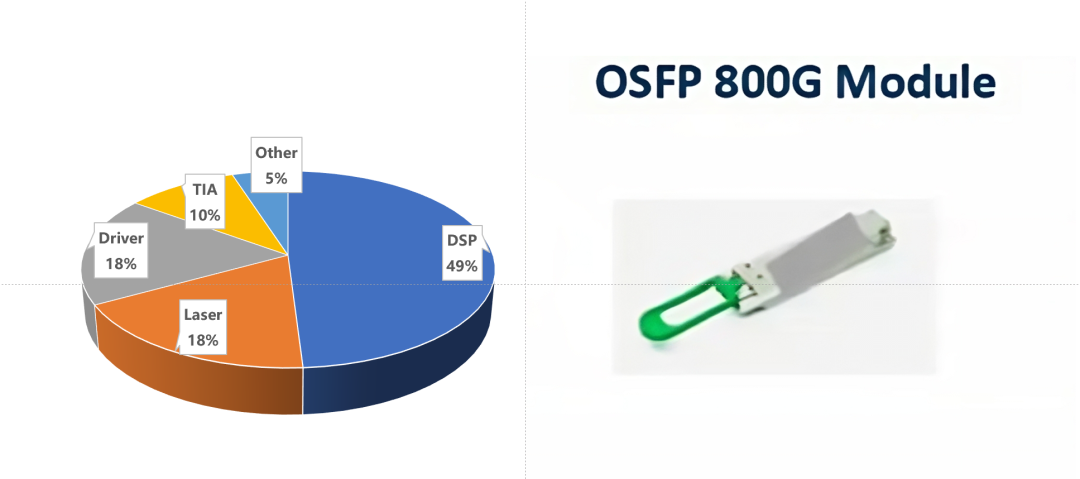 Source: Macom, OFC 2023
To reduce power consumption and cost while meeting the demands of high-speed, high-density optical communication connections, as well as the need for optical network flexibility and scalability, the Linear-drive Pluggable Optics (LPO) module has emerged. LPO technology uses a linear drive approach, replacing DSPs with Transimpedance Amplifier (TIA) and DRIVER (drive chip) with high linearity and EQ capabilities. This substitution significantly reduces power consumption and latency.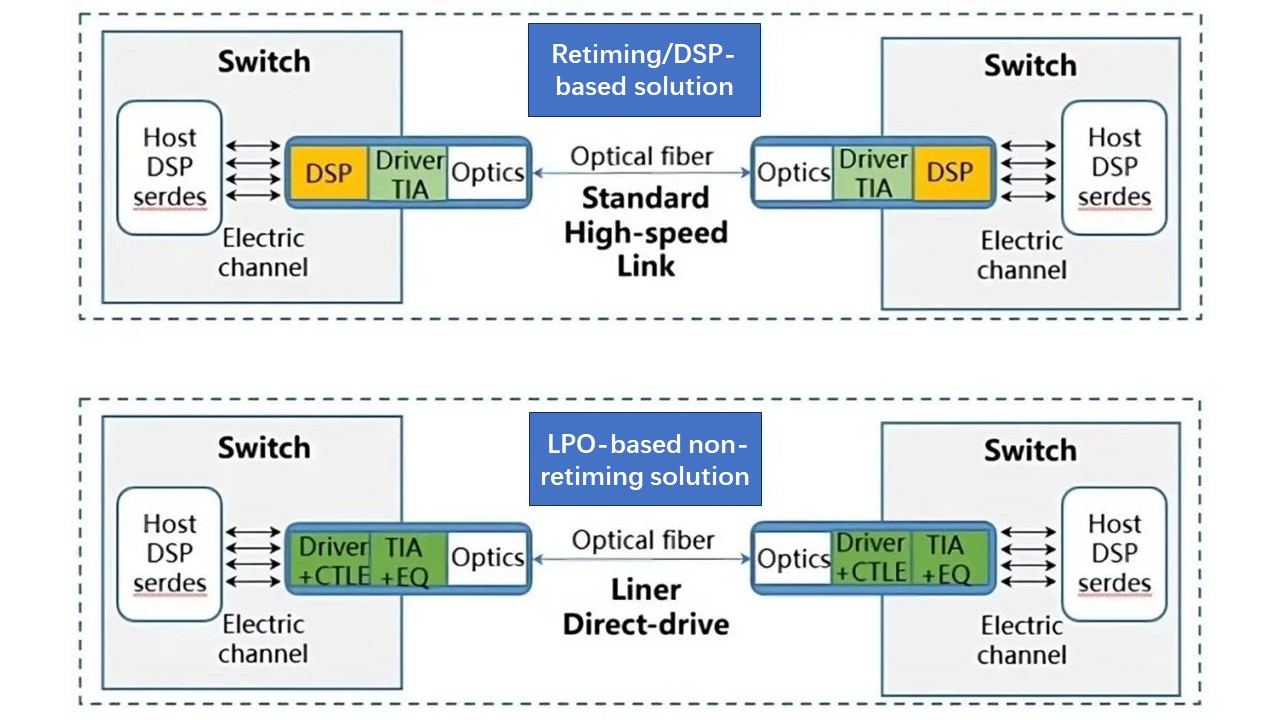 Linear-drive Pluggable Optics Technology Roadmap
LPO technology offers the following advantages:
1. Low power consumption: LPO optical modules reduce power consumption by about 50% compared to pluggable optical modules. With the Linear-drive solution, the power consumption of silicon photonics and Vertical Cavity Surface Emitting Laser (VCSEL) also decreases by around 50%, effectively reducing heat generation within the components.
2. Low cost: LPO technology has lower cost. Although DSPs have a higher price, they account for around 20% to 40% of the Bill of Materials (BOM) cost in 400G optical modules. In the LPO solution, the Driver and TIA integrate EQ functionality. While there may be a slight increase in cost, the overall cost of the optical module can still be significantly reduced.
3. Low latency: By eliminating DSPs and utilizing high linearity TIA and DRIVER chips with EQ functionality, the system can reduce signal recovery time, significantly reducing latency to even picosecond-level.
4. Pluggable: In the LPO solution, the packaging form of optical module has not changed significantly, using a pluggable design that allows for easy insertion and removal of optical modules. This makes optical connections more flexible and convenient. This design simplifies fiber cabling and equipment maintenance, making the system easy to manage and maintain.


LPO Technical Advantages

In general, LPO technology offers advantages of low power consumption, low cost, low latency, and hot-swappable capabilities. These advantages make it a flexible and efficient optical connectivity solution that plays a key role in the future in high-speed optical communications, smart computing centers, and cloud data centers. It is expected to become a major growth driver in the optical module market.
As a leader in smart computing center networks, Ruijie Networks is committed to providing customers with comprehensive network solutions and IT services that drive industry growth and innovation, and keeping customers informed about the latest technological trends shaping the future. Ruijie Networks will continue to innovate and lead the trend in smart computing center networks.