Silicon photonics technology is gaining increasing recognition from upstream and downstream industries and is considered a future development direction of photonics integration. Leading manufacturers at home and abroad are continuously investing in this technology, while announcements and standards related to Co-Packaged Optics (CPO) technology are constantly emerging. Recently, Ruijie Networks officially launched the first data center switch that uses CPO technology, marking the beginning of the CPO market.
Ruijie's First CPO Switch Hot Off the Press Marking the Beginning of the CPO Era
Silicon photonics technology, a hot topic in the industry, is a cutting-edge development direction of photonics technology. It utilizes the low cost and high-speed characteristics of silicon photonics for optical communication technology. There are two development routes for silicon photonics technology: CPO and Near Packaged Optics (NPO). Both solutions can significantly reduce energy consumption while improving data center performance. CPO, with higher integration, has entered its first year. CIR estimates that the CPO data center equipment market officially will take off in 2022 and experience a period of rapid development.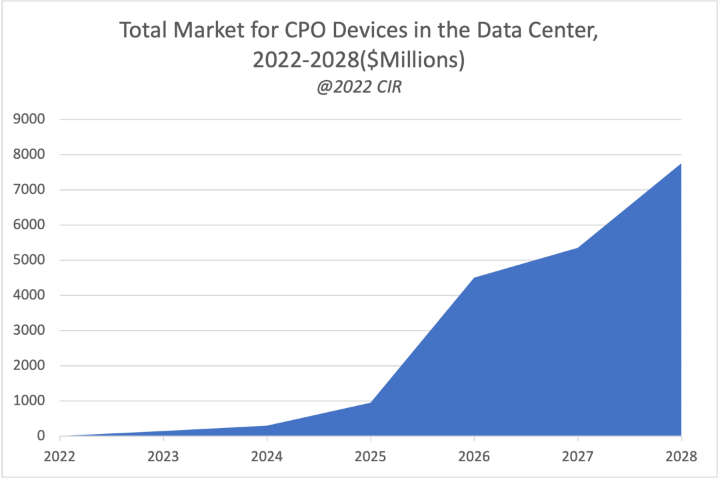 CPO Data Center Equipment Market Forecast by CIR
Recently, Ruijie Networks officially launched the first data center switch that uses CPO technology. With a 25.6 Tbps switching capacity and 2 RU height, the switch accommodates 32 x 400GE QSFP112 ports and 16 x 800GE MPO16 ports.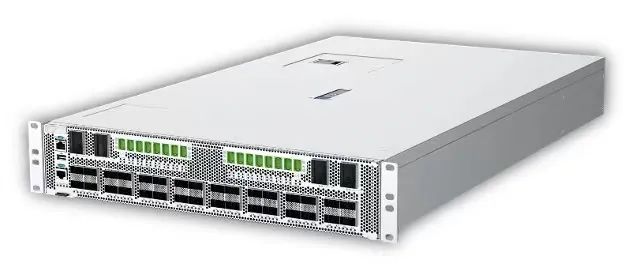 CPO Data Center Switch Launched by Ruijie Networks
At the 2021 OCP Summit, Ruijie Networks unveiled the first NPO data center switch that incorporates both silicon photonics technology and liquid cooling technology. Ruijie Networks is leveraging its technological innovation capabilities to gradually implement silicon photonics technology and pave the way for future green data centers.
Contradiction Between Computing Power Enhancement and Green Energy Conservation
Why does Ruijie networks select the silicon photonics technology? The crucial factors in data center development include computing power and energy consumption.
With the high-scale growth of traffic and constant improvement of bandwidth, data centers are facing unprecedented problems concerning power consumption.
Currently, governments in more than 140 countries and regions have proposed carbon neutrality goals of varying degrees and have implemented carbon planning and deployment at the policy level. As energy-intensive communication facilities, data centers have also gained widespread attention from these governments.
Country/International Organization

Strategic Planning

Emission Reduction Goal

USA

Data Center Optimization Initiative (DCOI)

For new data centers: PUE<1.4

For existing data centers: PUE<1.5

European data center operators and industry associations

Climate Neutral Data Center Pact

Ensure climate neutrality of data centers by 2030.

EU

White Paper on the Current State of Data Center Energy Efficiency in Europe

ICT infrastructure and data centers will achieve climate neutrality by 2030.

Become the first continent to achieve climate neutrality by 2050.

Singapore

Green Data Center Technology Roadmap

Reduce data center power consumption, improve the efficiency of cooling equipment, enhance the temperature and humidity tolerance of IT equipment, and boost the integrated optimization of resource scheduling and load distribution in data centers.

Japan

Green Growth Strategy

Reduce the power consumption of data centers by about 30%.
For data centers used as energy-intensive entities, computing power enhancement and green energy conservation complement each other.
Silicon Photonics Achieves High Performance and Low Consumption, While Eliminating Physical Bottlenecks
Facing increasing demands for high network bandwidth in AI, ML, and high-performance computing (HPC) scenarios, the single-port rate of optical modules has grown from 1 Gbit/s to 800 Gbit/s in just over a decade, with an 800-fold increase in optical module rate and a 30-fold increase in power consumption. With the increasing demand in high-speed and high-density interconnection transmission scenarios, the industry is facing a challenge to balance enhanced performance and lower energy consumption due to limitations on hardware performance and optical module cooling on port density. Therefore, the industry is hoping for a new type of optical product or technology to replace traditional optical modules.
In addition to high density, low cost, and compact design, CPO technology is characterized by low power consumption. It co-packages the optical engine and switching chip. Compared with devices that use traditional optical modules, CPO devices reduce the power consumption by 23%. Ruijie Networks' CPO devices are compatible with liquid cooling, which reduces overall power consumption and lowers cooling costs by 35% in comparison with devices that use pluggable optical modules and have similar performance.
Ruijie Networks, recognized for its innovative technology and scenario innovation, not only invests in and conducts innovative research on the CPO route in advance, but also launches the first switch that uses CPO technology. Additionally, Ruijie Networks participates in composing the latest CPO switch design white paper released by Consortium for On-board Optics (COBO) to promote the development of this technology throughout the entire industry chain.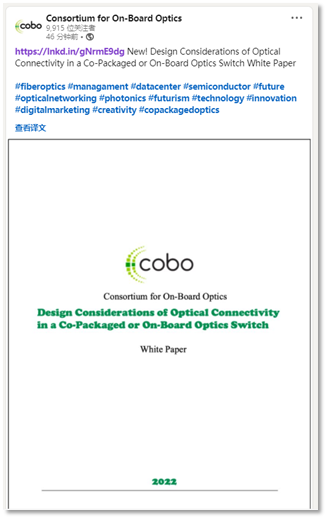 CPO Switch Design White Paper Released by COBO
Ruijie Networks, Always the Forerunner in Addressing Cooling Problems by Utilizing NPO and Liquid Cooling
Only half of one kilowatt-hour is used for computing, while the rest is used for cooling and lighting.
To reduce energy consumption of data centers, Ruijie Networks is investing heavily in silicon photonics technology, and also focusing on innovative research into liquid cooling technology for data centers.
The average Power Usage Effectiveness (PUE) of data centers in China is currently around 1.8, while the PUE of traditional air-cooling data centers falls between 1.5 and 2.0. In order to achieve a PUE of 1.3 or even below 1.25 in compliance with the new national standard, air cooling can hardly meet future cooling demands due to limitations on thermal resistance and size of heat sinks. Instead, liquid cooling with higher specific heat capacity and thermal conductivity has become the direction for technological breakthroughs.
Cold-plate liquid-cooling technology, with a liquid coolant that has higher thermal conductivity, provides higher heat dissipation efficiency and lower PUE in a more compact space than air cooling. In addition, the absence of fans in cold-plate liquid-cooling technology helps to decrease noise.
As of now, Ruijie Networks has officially released multiple switches that use both silicon photonics technology and liquid cooling technology. Among them, the 51.2 Tbps silicon photonics NPO cold-plate liquid-cooling switch adopts the design of silicon photonics NPO and cold-plate liquid-cooling, integrating high-density 800GE ports within a 1 RU height. They have higher heat dissipation efficiency and lower energy consumption than conventional air-cooling switches. Ruijie Networks provides customers with a variety of liquid cooling products and technology solutions, contributing to the construction of green data centers.
51.2 Tbps Silicon Photonics NPO Cold-Plate Liquid-Cooling Switch Launched by Ruijie Networks at OFC22
As data centers continue to play a crucial role in the digital economy, the long-term development is expected to center on enhancing computing power and conserving green energy.. As an industry-leading provider of ICT infrastructure and industry solutions, Ruijie Networks will leverage its advantages in technological capabilities, scenario innovation, and product development to drive the transformation towards green, intelligent, and future-proof data centers featuring high-performance and low-energy consumption.