On December 7, Ruijie Networks holds the Global Education Conference with a theme of "Building a Green and Sustainable Smart Campus Network" in Bali, Indonesia. More than 350 experts from around 200 colleges and universities in 11 countries and regions including Singapore, Indonesia, Malaysia, Thailand, Philippines, India, Mongolia and Uzbekistan are invited to explore the situation and future trend of high-quality smart campus networks.

In the conference, Ruijie Networks shares its self-developed scenario-oriented products and solutions. The solutions integrate new technologies and applications into smart campus network construction, and reshapes new experience of education informationization, with the concept of high-quality network infrastructure construction, promoting green and sustainable development of global smart campus networks in the next five to ten years. The conference presents Ruijie's application results, which are well recognized by the participants.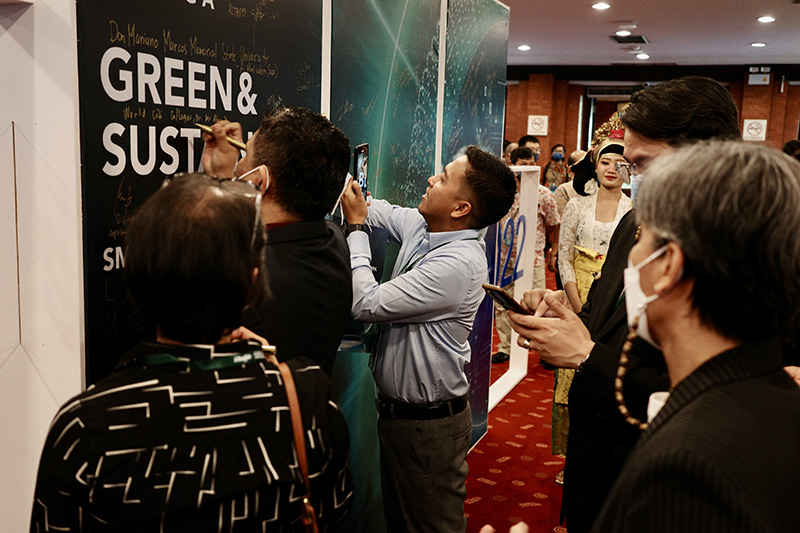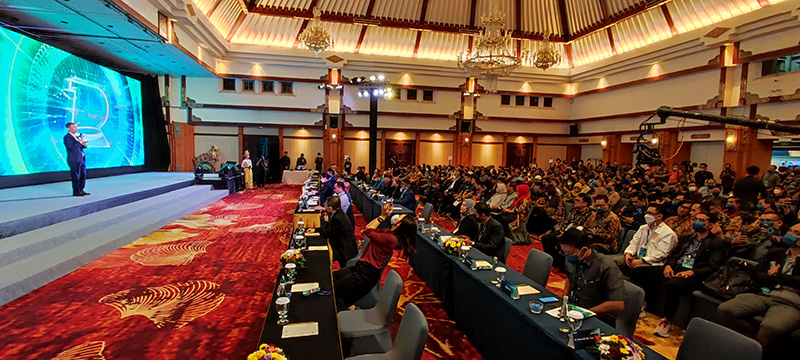 Accumulating Rich Experience in Education Information Construction in the Past 20 Years
Since its establishment in 2003, Ruijie Networks has developed into a leading enterprise in ICT and cloud computing infrastructure in China with powerful R&D capabilities, user-tailored products & solutions, and professional & efficient services. Ruijie Networks has provided services for customers from various countries and regions, covering Asia, Africa, Europe, and North America.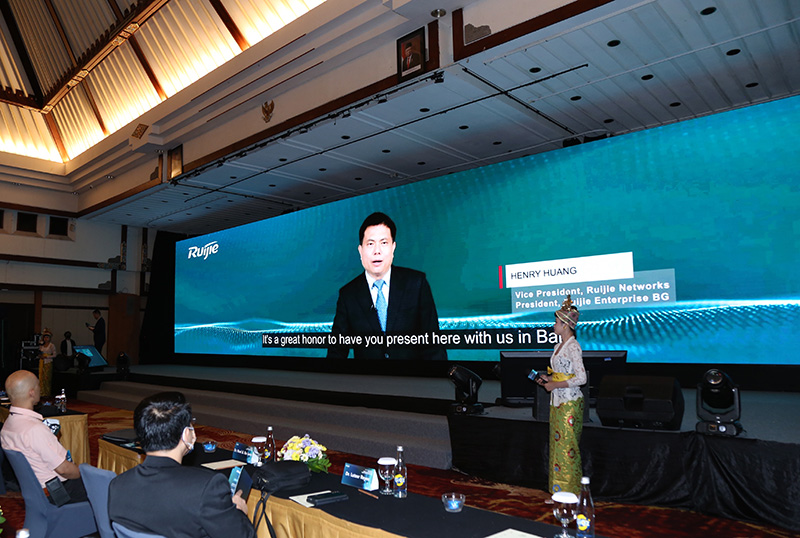 Dedicated to education products and solutions for 20 years, Ruijie Networks has been fulfilling the mission of "fully incorporating technology with application, creatively solving customer problems, and promoting social progress", gains a keen insight into scenario demand changes of university informationization, and dives into user scenarios. In the fields of all-optical Ethernet campus network, WLAN, IT operation and maintenance, and cloud desktop, Ruijie Networks keeps a leading role in the innovation and upgrade of solutions and scenario-oriented technologies. Currently, Ruijie Networks has served more than 2600 colleges and universities in China, accounting for 98%. Ruijie Networks hopes to share its rich experience in information construction and advanced technical solutions with customers in the education industry.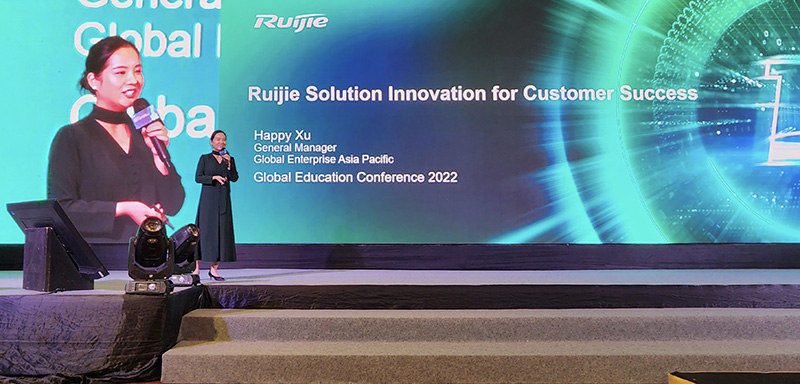 Building a Green and Sustainable Smart Campus Network
Nowadays, global university campuses have been developing rapidly to meet ever-growing diversified needs of students. According to Forbes, more than 250 million students in the world will enter institutions of higher education by 2025. Students are inclined to take the initiative in their studies. As next-generation technologies become popular, teaching methods and forms have gone through remarkable changes. Digital, information-based, and smart campus is the mainstream.
As the infrastructure and basis of a smart campus, the campus network has become an indispensable part of the infrastructure construction of colleges and universities. Particularly in the post-pandemic era, sharp growth of online applications and traffic brings dramatic changes of network demands, posing greater challenge to campus network construction.
Prof. David Asirvatham, Executive Dean of the School of Innovation and Technology of Taylor's University (Malaysia), points out that campus networks of many colleges and universities in the world are faced with similar problems under the impact of new demands. Limited by outdated infrastructure and low performance, the early campus network cannot satisfy current needs. Due to a lack of overall planning, the campus network needs to be upgraded to cope with demand changes in the future five to ten years. Moreover, sparsely distributed IT systems results in low network security. O&M personnel are not fully qualified, leading to lower O&M efficiency.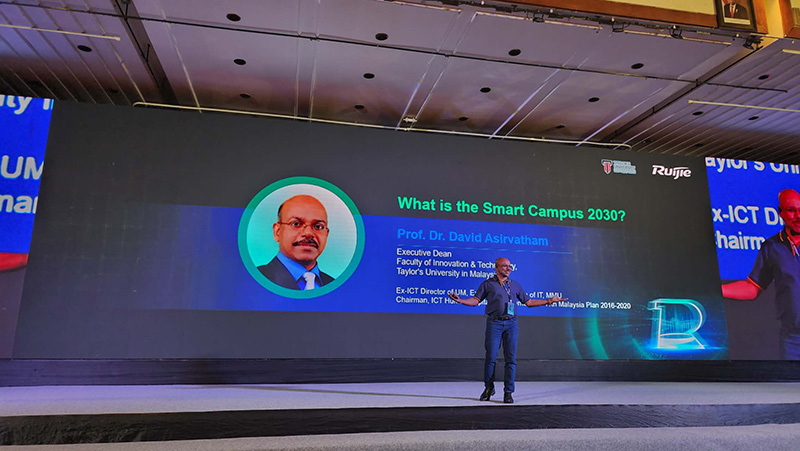 86% of IT leaders in the education industry believe that the technical system, management system, and teaching mode of schools need to be changed urgently to meet new demands in the post-epidemic era. Prof. David Asirvatham deems that advanced and smart campus networks need to be upgraded and transformed in terms of management solutions, infrastructure, network services, integrated application system, and network security. This ensures smooth development and continuous evolution of the education and teaching in the future through the growth of smart campus networks.
Reshaping Experiences of Smart Campus Networks
In the post-epidemic era, the new teaching mode that integrates online and offline education has been developing continuously, urgently requiring a high-performance campus network, especially for WLAN, in terms of bandwidth, concurrency, latency, and scalability. In this context, how can schools ensure excellent experiences of campus wireless networks? Ruijie Networks has launched a scenario-oriented solution, redefining college scenarios such as classrooms, dormitories, and outdoor places with ultra-high-speed fiber access and simplified O&M management. This solution usher in the optical fiber era for WLANs of colleges and universities and reshapes WLAN experiences.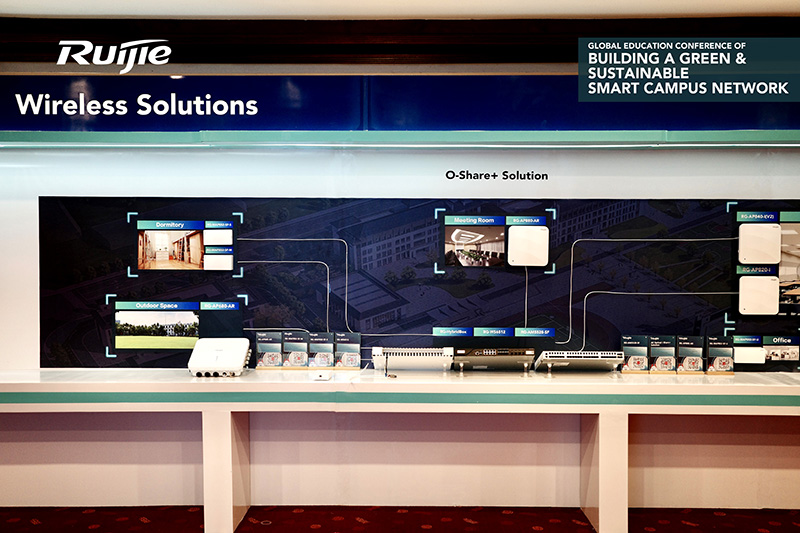 In addition, Ruijie Networks has rolled out the first Wi-Fi 7 access point – RG-AP9860. The RG-AP9860 provides 14 spatial streams and delivers a combined data rate of 19.31 Gbit/s, proving Ruijie's powerful technological innovation capabilities.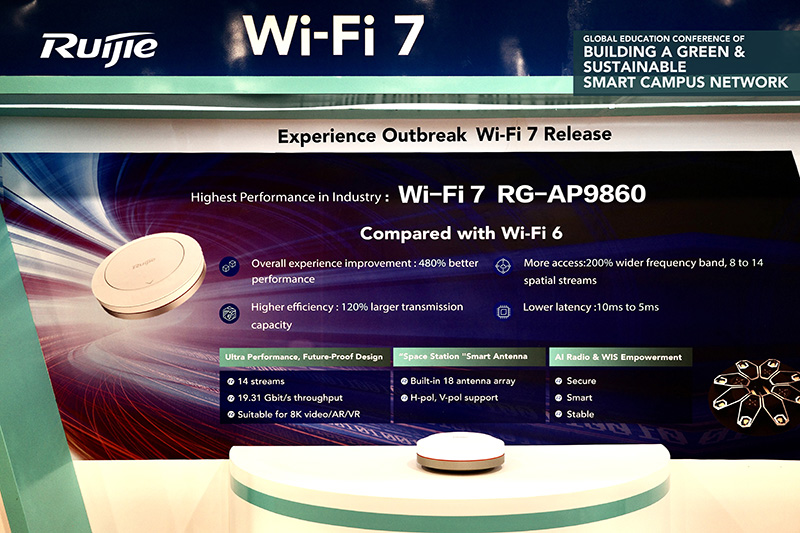 Dr. Kanmani Munusamy, Head of ICT Infrastructure Department of University of Malaya, thinks highly of the All-Optical i-Share+ Solution, saying: "Ruijie Networks has developed a full line of products that cater to all requirements or functions of our smart campus network. The existing network of our university has been built for many years. Ruijie Networks has provided an impressive new solution to construct our wireless network. I am very grateful for their help and look forward to cooperating with them in the future to learn more about the latest products and technologies."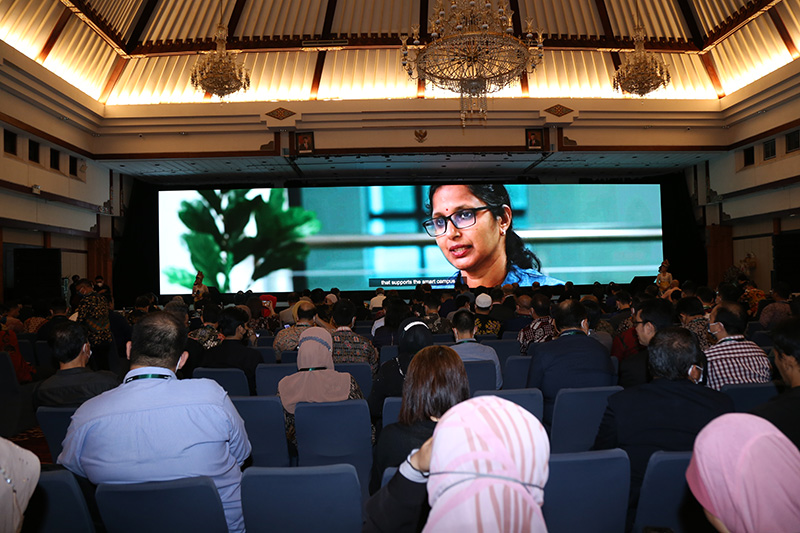 Education information construction requires the basic bearer network with high bandwidth, convenient management and operation, and flexibly scalable network architecture. To satisfy this requirement, Ruijie Networks has launched the Simplified Optical Ethernet Solution. It transforms the original campus network infrastructure ecology and brings brand-new all-optical campus network experience. The solution adopts an innovative FTTH deployment mode to achieve simplified architecture, management, operation and maintenance on the campus network, greatly promoting the construction of the smart campus network.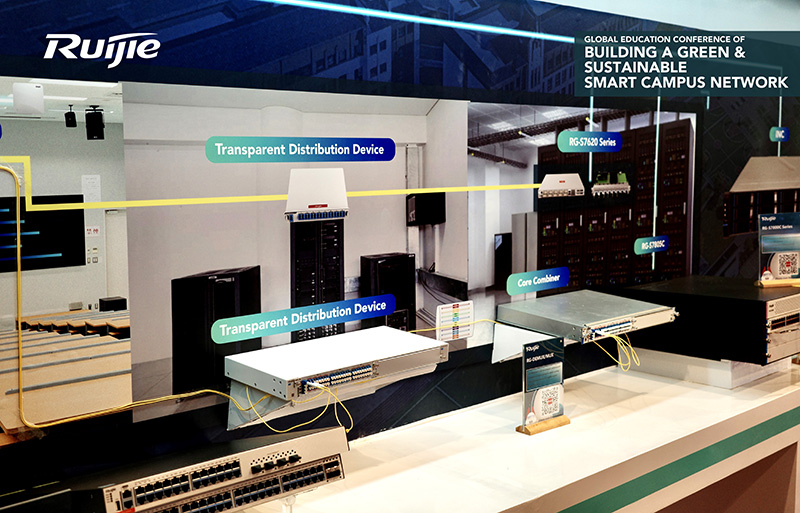 Working Together to Facilitate Digital Transformation of Education
In the conference, Ruijie Networks has achieved strategic cooperation with Indonesian Association of Higher Education Informatics and Computers (APTIKOM). In the near future, two parties will communicate and share advanced technologies and solutions by means of seminars and workshops. Ruijie Networks will also provide advanced solutions for APTIKOM members to speed up the construction of smart campus networks of Indonesia's colleges and universities, and jointly facilitate digital transformation of Indonesian education.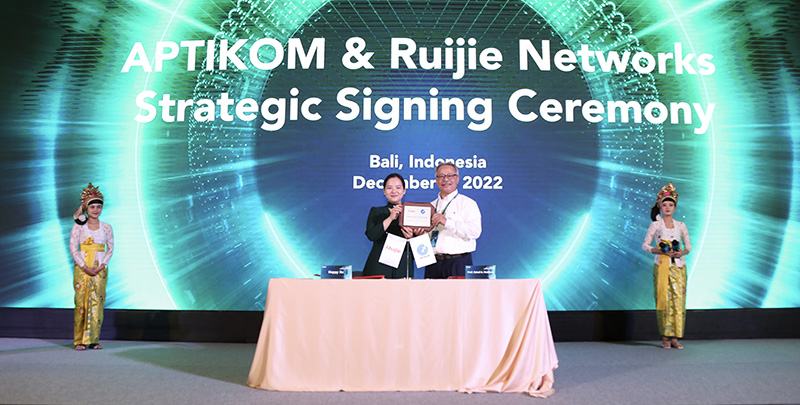 Meanwhile, Ruijie Networks hopes to help customers in the education industry to build green and sustainable smart campus networks, reconstruct new experiences of information education, and promote the development of smart campus, education and teaching in the next five to ten years through its rich experience in building smart, information-based and digital campuses in China and advanced technological innovation capabilities.