Ruijie Networks Co., Ltd. (stock code: 301165, hereinafter referred to as Ruijie Networks) was listed on Shenzhen Stock Exchange ChiNext board on November 21, 2022.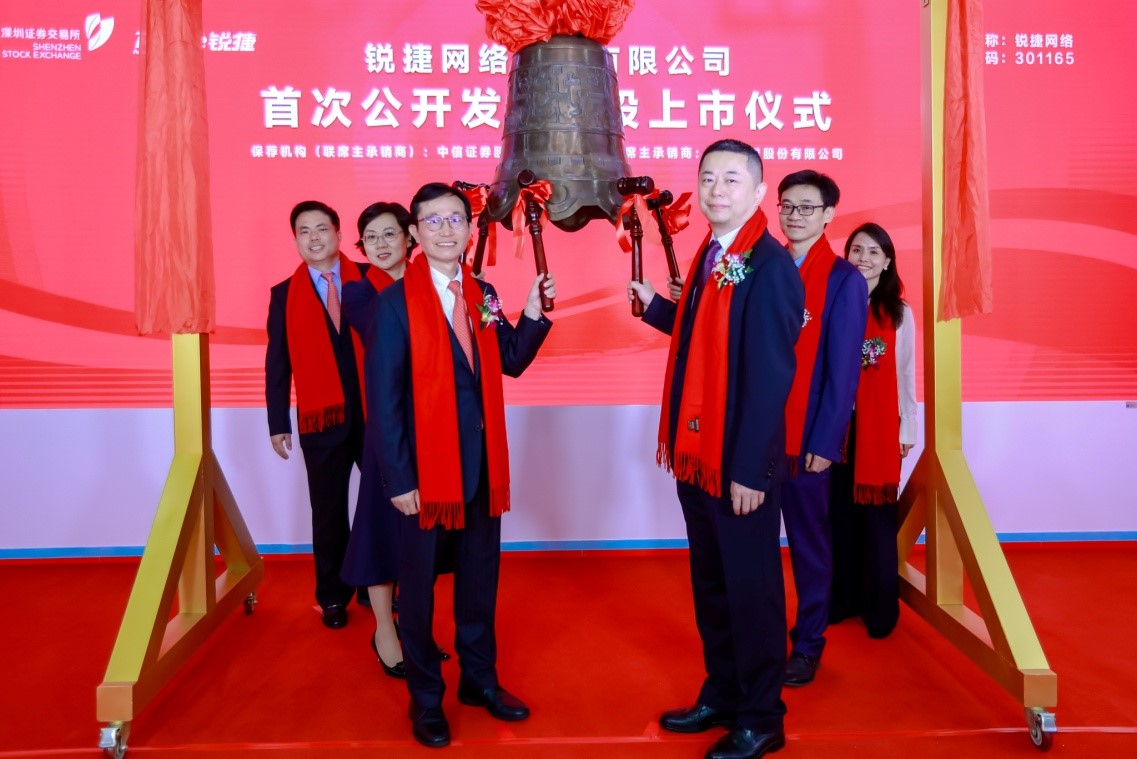 Ruijie Networks rang the SZSE opening bell
Leading the Way to Lay a Solid Foundation for the Digital Economy
With the rapid development of the next generation of information technologies, the digital economy already becomes the core engine for global economic growth. As a leading enterprise in ICT and cloud computing infrastructure, Ruijie Networks deeply explores businesses of network equipment, network security, and cloud desktop, and assists the implementation of the "new infrastructure" strategy, injecting new energy into the development of the digital economy.
Since its establishment 20 years ago, Ruijie Networks has always maintained a steady growth trend, with increasing revenue scale all the time. From 2019 to 2021, the compound growth rate of operation revenue reached 32.68%. In the first half of 2022, the operation revenue increased by 34.19% compared with the same period of 2021. Ruijie keeps ranking top 3 in the network equipment and cloud desktop business markets.
In the network equipment field, Ruijie Networks achieves rapid growth for many years. From 2019 to 2021, the compound growth rate of the network equipment revenue reached 33.4%, which is much higher than the industry average growth rate of 9.8% (data source: IDC). Ruijie Networks keeps a leading role in the innovation and upgrade of data center networks and has a compound growth rate up to 55.8% in the data center switch market in the past three years, which is much higher than the industry average growth rate of 15.6% (data source: IDC). In addition, Ruijie Networks intensively researches wireless network user scenarios, solves difficulties in application in complex scenarios, and helps customers realize business innovation and gain a leadership in the market. According to IDC data, Ruijie Networks ranks first in China's enterprise-level WLAN market shipment in 2021.
In the network security field, as a pioneer and practitioner of "network + security", Ruijie Networks helps users move towards a more secure network architecture. The network security products of Ruijie Networks serve more than 10,000 customers in government, finance, education and other industries.
In the cloud desktop field, Ruijie Networks is one of the earliest manufacturers to carry out cloud desktop-related technology research and solution design, and is the first to launch full-scenario integrated cloud desktop solutions. According to IDC data, Ruijie Networks ranks first in China's enterprise-level terminal VDI market share for six consecutive years from 2015 to 2020, and also ranks first in China's local computing IDV cloud desktop market share in 2021.
Under the digital economy wave and guided by the new infrastructure strategy, with keen insight in customer requirements, accurate view of industry trend, powerful R&D capabilities, and deep technology accumulation, Ruijie Networks has continuously developed targeted, innovative product solutions to help customers in various industries to meet their growing demands for information and digital construction.
Currently, the user-tailored products and solutions of Ruijie Networks have been widely used in information construction of many industries such as government, operators, finance, education, medical care, Internet, energy, transportation, commerce, and manufacturing. Ruijie Networks has been shortlisted by China Mobile, China Telecom, and China Unicom for centralized procurement of data center switches and has become the core supplier of data center switches for large Internet enterprises such as Alibaba, Tencent, and ByteDance. Meanwhile, Ruijie Networks has established in-depth cooperative relationships with leading customers in various industries and has provided services for more than 1,000 financial institutions, all the first-class universities and disciplines of the world, 60% of the top 100 hospitals in China, and more than 200 of the top 500 enterprises in China.
Raising Funds for Intensive Innovations and More Solid Development Base
As an innovative enterprise, Ruijie Networks always insists on independent R&D and leads development with innovation. From 2019 to 2021, Ruijie Networks keeps investing over 15% of its revenue in R&D. Currently, it has obtained 1,201 patents, including 1,168 invention patents, and its R&D employees account for as high as 55.56% of its total staff.
According to the prospectus, the initial public offering (IPO) of Ruijie Networks raised a total funds of 2.208 billion yuan, which will be invested in the R&D and industrialization of new-generation network communication series equipment, R&D and industrialization of cloud-pipe convergent solutions, and data communication R&D technology platforms, as well as supplementary liquidity. The raised funds will further consolidate the development base and enhance core competitiveness of Ruijie Networks.
Successful implementation of the invested projects by raised funds will help expand the business scale, improve the service level, empower the R&D capabilities, and enhance the competitive advantages of Ruijie Networks. According to the research report of Guotai Junan Securities, Ruijie's fund-raising projects are extension and supplementary of Ruijie's main business, which will help strengthen the capabilities of its R&D team, improve the service quality, enhance the core competitiveness, and intensify its advantages in network equipment, network security, and cloud desktop.
Be Highly Valued by Many Securities Firms and Ready for a Prospective Future
Ruijie Networks is highly valued by many securities firms due to its strong strength and wide growth space. The research report of Minsheng Securities pointed out that Ruijie Networks relies on the Shenzhen Stock Exchange ChiNext board platform to independently raise funds for promoting its business development and further enhancing profitability and competitiveness. The research report of Huajin Securities pointed out that Ruijie Networks, as one of the leading network equipment providers in the industry, may benefit from the new infrastructure construction driven by China's "new infrastructure" strategy. Star-Net Communication, the parent company of Ruijie Networks, leads in multiple ICT product segments and markets, and they are expected to have better collaboration in technology and business.
Huang Yihao, chairman of Ruijie Networks stated that "Ruijie Networks will take the listing as an opportunity to deepen independent innovation, continuously improve our core competitiveness, and forge ahead towards the goal of a world-class industry leader. We will continue our efforts in the new era to reciprocate investors and the society with excellent business performance."