3-5 August 2022,The 41st UniNet Workshop on Networking and Computing (41st WUNCA) was held at Rajamangala University of Technology Rattanakosin Wang Klai Kangwon Campus, Thailand. The exhibition is organized by Rajamangala University of Technology Rattanakosin in Collaboration with the Ministry of Higher Education which the exhibition registered more than 600 people. Presidents, Deans, IT directors, Networks management and experts of well-known universities in Thailand including Chulalongkorn University, Mahidol University, Kasetsart University, Prince of Songkla University, Khon Kaen University etc., are attended the meeting.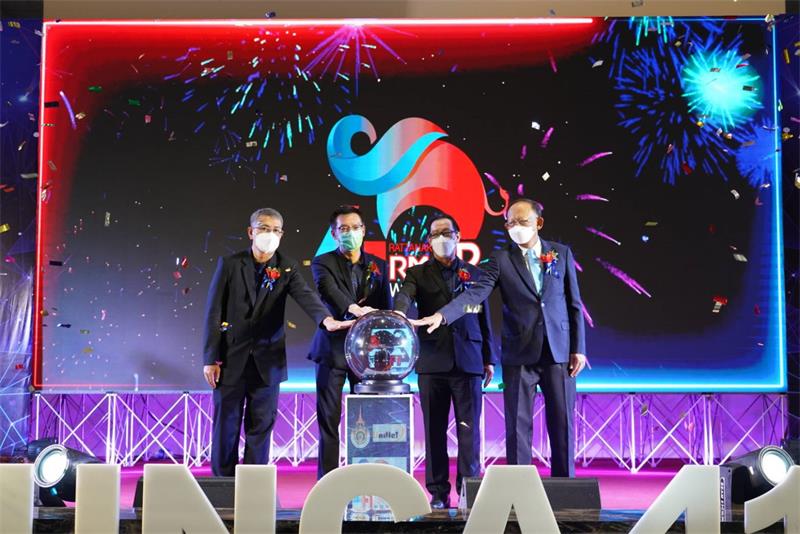 Professor Supachai Pathumnakul, Deputy Permanent Secretary, Ministry of Higher Education, Science, Research and Innovation opened the workshop "Implementation of the Information Network System for Education Development Activities No. 41
The key words of the exhibition are higher education, science, research, and innovation.
The organizer believes that:At present, countries around the world are competing in economic development, education, and science and technology. Thailand therefore needs to be developed in various fields to be equal and sustainable continuously to enable the use of technology in economic development can create bargaining power with various civilized countries. The development of education and research is the most important. Research and development cooperation between educational institutions and with other countries is one of the factors contributing to the balance of the status of information technology network systems.
Therefore, in order to develop the potential of personnel who are members in the network for efficiency and maximum benefits.Office of Information Technology Administration for Education Development Rajamangala University of Technology Rattanakosin deems appropriate to organize a workshop on Uninet and Computer Application: 41st WUNCA.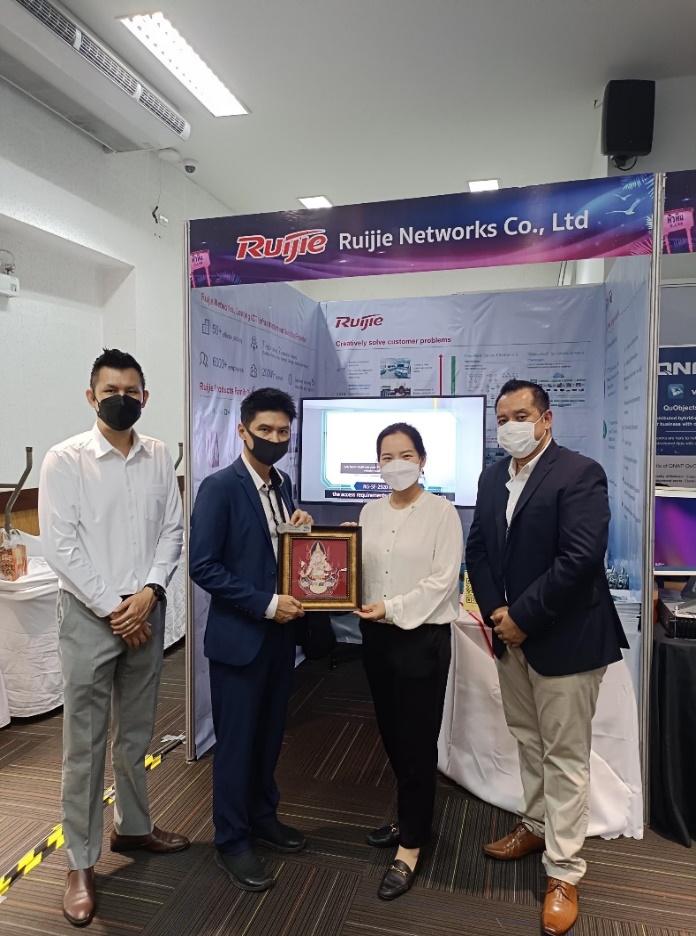 Ruijie take a group photo with Dr. Watcharin Warinthaksa – Director of Office of Academic Resources and information Technology, Rajamangala University of Technology Rattanakosin (Chairman of the event The 41st UniNet Workshop on Networking and Computing )(41st WUNCA)
Ruijie Networks has been deeply engaged in the education industry for more than 20 years. In this exhibition, we demonstrated our successful experience and strength. Ruijie Network showcases the company's relevant successful experience in the field of education, and highlights several excellent programs and cases, such as the Simplified Optical Ethernet Solution 2.X is provided by Ruijie Networks based on the development trends of the education industry and an in-depth analysis of smart campus construction scenarios. The advantages of the solution: a high bandwidth network connection with an exclusive 1000M/10G network; compatibility with the original Ethernet network architecture offering high flexibility and scalability; and ability to manage the entire process intelligently with extremely simplified O&M.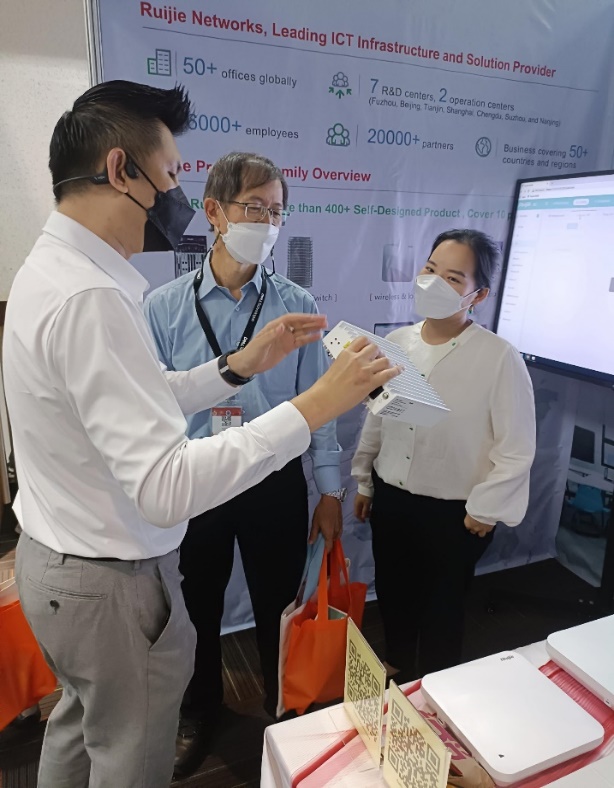 Introduce products to Assoc.Prof. Dr. Sinchai Kamonphiwong Director of Office of Digital Innovation and Intelligent Systems, Prince Songkhla University
Ruijie Networks also showcased our WIS cloud management platform at the conference, focusing especially on the functions of network visualization, intelligent network optimization, intelligent diagnosis, and cloud management networks. The WIS fully supports the full life cycle management of the wireless network to solve the problems of wireless network O&M management.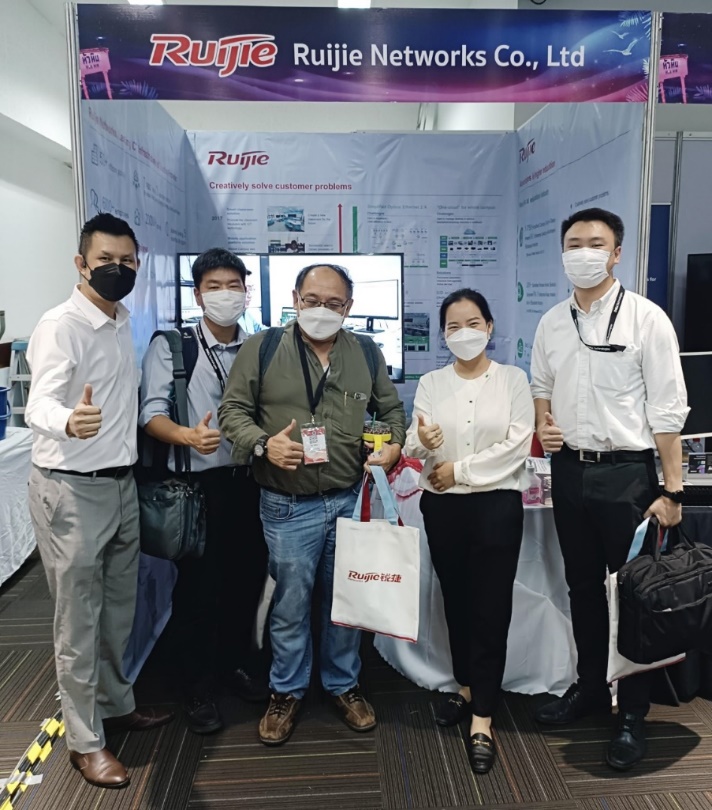 Assoc. Prof. Dr. Anan Phonphoem – Director, Asst. Prof. Dr. Aphirak Jansang - Deputy IT director, and Dr. Withawat Tangtrongpairoj - Asst. IT director, Office of Computer Services, Kasetsart University
At the event site, Ruijie had technical exchanges with the relevant leaders of several local universities, such as the Director of Office of Computer Service - Kasetsart University, Director of Office Innovation and Intelligent Systems - Price Songkhla University, Director of Office of Digital Technology - Khon Kaen University, etc. In addition, Ruijie also had the opportunity to communicate with many universities about the solutions of education network construction.
Through solution design and industry innovation, Ruijie Network has created in-depth scenario-based application experience, established a successful business and service model, and served several global top 500 enterprises. Especially in education,the solutions have been deployed in over 2,600 universities throughout China. It has helped more than 98 percent of Chinese universities solve their Internet problems. Now, Ruijie Networks is bringing mature products and solutions to the international market. In the future, we will join hands with Thailand's education to make greater contribution to science and technology.