On July 5, 2022, Ruijie Networks, PT. Wahana Piranti Teknologi and Harrisma Computer Jogja organized a seminar with the theme of "Towards a Green & Sustainable Smart Campus Network" in Indonesia. Many of our customers in the field of Indonesian education informatization attended the conference to discuss the construction and development of a smart campus wireless network.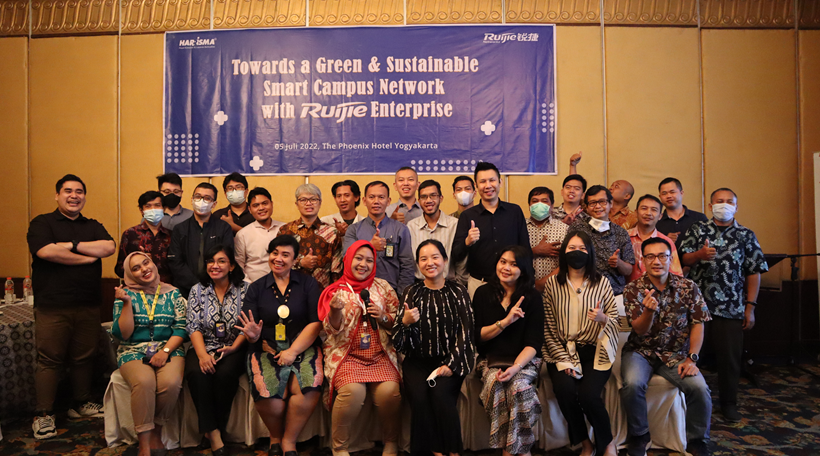 Towards a Green and Sustainable Smart Campus Network with Indonesia
In the era of Education 4.0, the building of smart campuses is necessary to meet the increasing demands of digitalization and intellectualization. An important goal of the education sector reform has been to accelerate the building of smart campuses through the in-depth integration of digital technology with school teaching, research, management and service. The transformation of smart campuses will face many network-related challenges, including the increase in the number of terminals and operational demands, more difficult O&M management, and higher security risks. Therefore, the construction of networks that feature high bandwidth, simple O&M and great security is the key to developing smart campuses.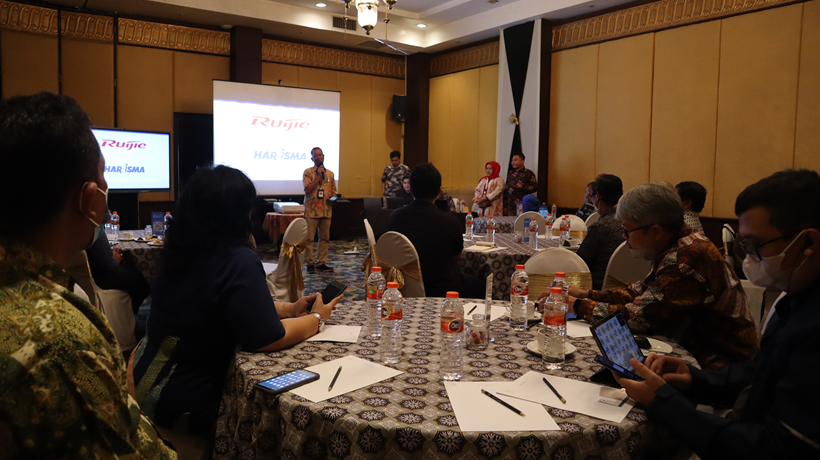 Harrisma delivered opening speech for the event on 5th of July 2022
The Simplified Optical Ethernet Solution 2.X is provided by Ruijie Networks on the basis of the development trends of the education industry and an in-depth analysis of smart campus construction scenarios. Imam, Solutions Manager of Ruijie Networks in Indonesia, demonstrated the advantages of the solution at the conference: a high bandwidth network connection with an exclusive 1000M/10G network; compatibility with the original Ethernet network architecture offering high flexibility and scalability; and ability to manage the entire process intelligently with extremely simplified O&M.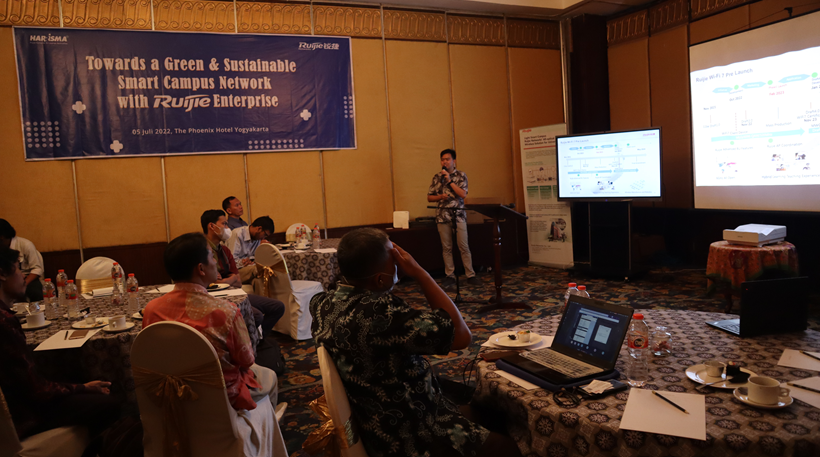 Ruijie Networks' Simplified Optical Ethernet Solution 2.X Presentation
In addition, Ruijie Networks also showcased our WIS cloud management platform at the conference, focusing especially on the functions of network visualization, intelligent network optimization, intelligent diagnosis, and cloud management networks. The WIS fully supports the full life cycle management of the wireless network to solve the problems of wireless network O&M management.
Steven, Chief Technology Officer of the Asia-Pacific Region of Ruijie Networks
In terms of communication, Steven, Chief Technology Officer of the Asia-Pacific Region of Ruijie Networks, conducted an in-depth discussion with the participants. By sharing the case study involving dormitories at the University of Malaya, where Ruijie deployed our new O-Share Solution, Ruijie Networks showed our ability to develop solutions based on scenarios.
Network support is essential to the development of smart campuses. With the expansion of technologies, a revised product line, and the upgrading of solutions, Ruijie Networks has been deeply engaged in the education industry for more than 20 years, and our solutions have been deployed in over 2,600 universities throughout China. Now, Ruijie Networks is bringing mature products and solutions to the international market, aiming to continue to take advantage to promote the informatization, digitization, and intellectualization of global customers in the education field.