Ruijie EasyGate (EG) Next-generation Unified Security Gateway is a multi-functional Cloud Managed Security Gateway product for various industries. Equipped with high-performance multi-core MIPS hardware architecture, the EG Gateway supports a wide range of features such as high-performance NAT, WAN load balancing, smart flow control, online behavior management, visualized IPsec VPN , web authentication, etc.
Taking advantage of integrated Hard Disk Drive (HDD), the EG Security Gateway can provide local storage for Internet activities logging, which is essential for National Internet Security Compliance in many countries.
Ruijie EG Next-generation Unified Security Gateway is also supported by Ruijie Cloud, altogether with switches and wireless access points, Ruijie Cloud can provide a comprehensive secure networking platform for centralized management allowing for device monitoring, configuration as well as firmware management.
For ease of provisioning, Ruijie provide an innovative Mobile App Dummy Provisioning for SME customers. In less than 3-min, user can complete the Gateway initial setup with Internet connectivity, without any PC setup or cable installation.
There are two models available for Security Gateway, RG-EG3250 & RG-EG2100-P v2.
Feature highlights of Ruijie EG Next-generation Security Gateway Series:
Smart Flow Control & AAA Integration
User Online Behavior Management
VPN & Traffic Visualization
FREE Cloud Management
App Caching for Download Acceleration
Built-in Internet Audit Log Storage (EG3250)
More+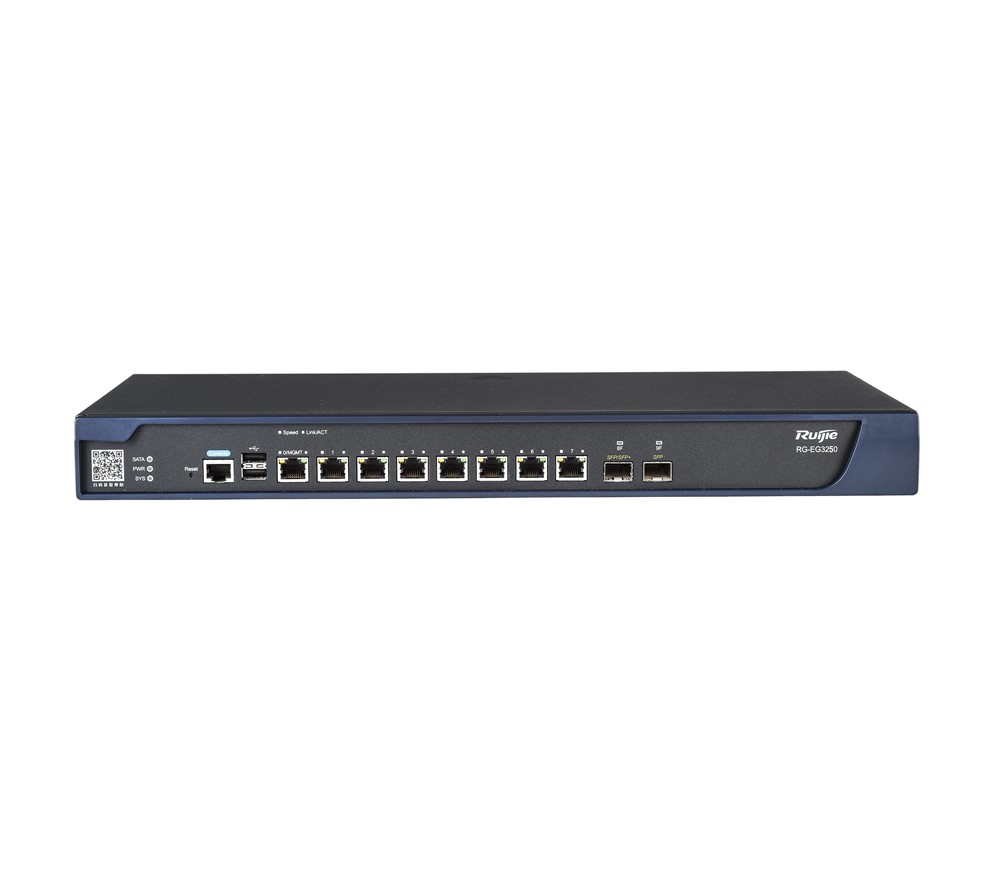 Perfect for Gigabit Internet




Internet Audit Compliance
Integrated 1TB Storage Providing 6+ Months Audit Log

External Audit Agency Platform




Flow Log

Authentication

Content Audit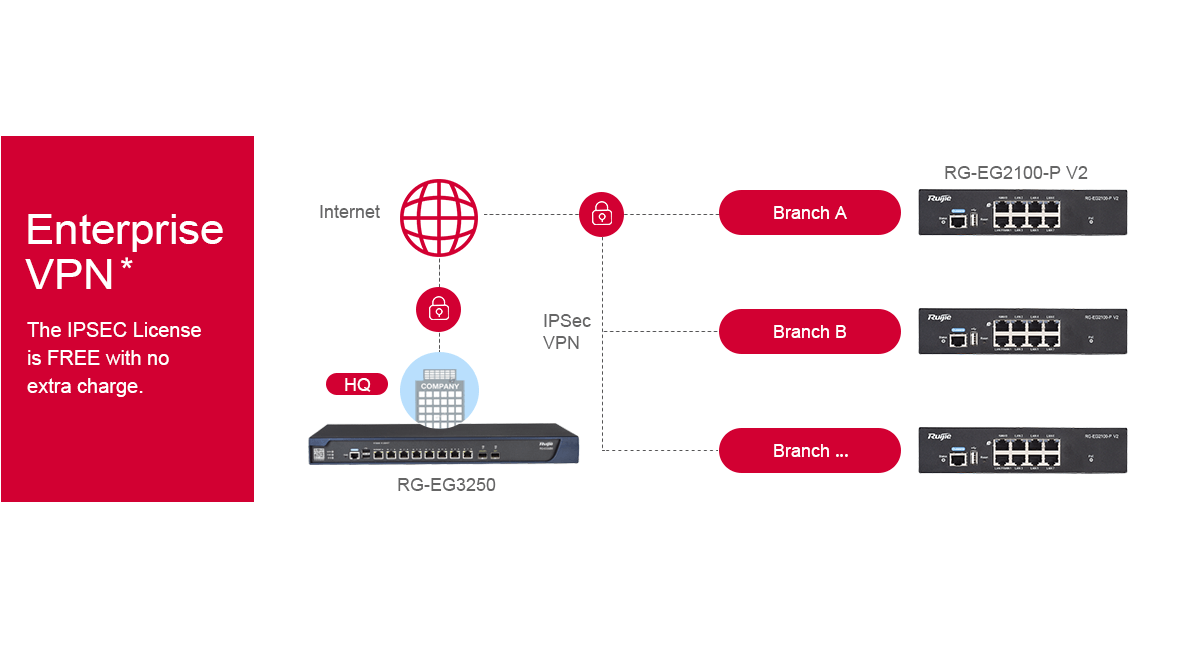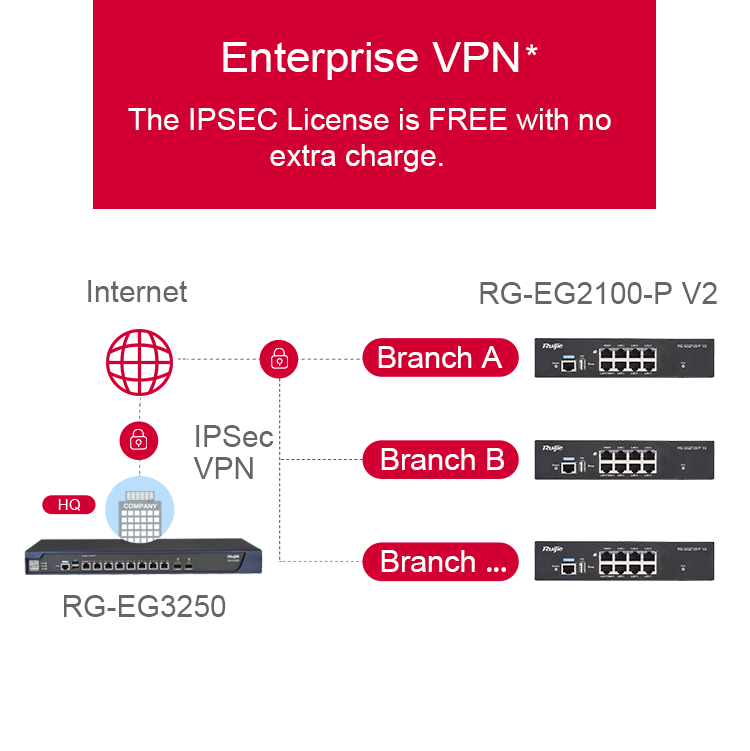 L7 Deep Packet Inspection (DPI)
Over 43 Types, 120 Applications
Lifetime FREE Signature Update

Flexible Flow Control Policy (4 Class Priority)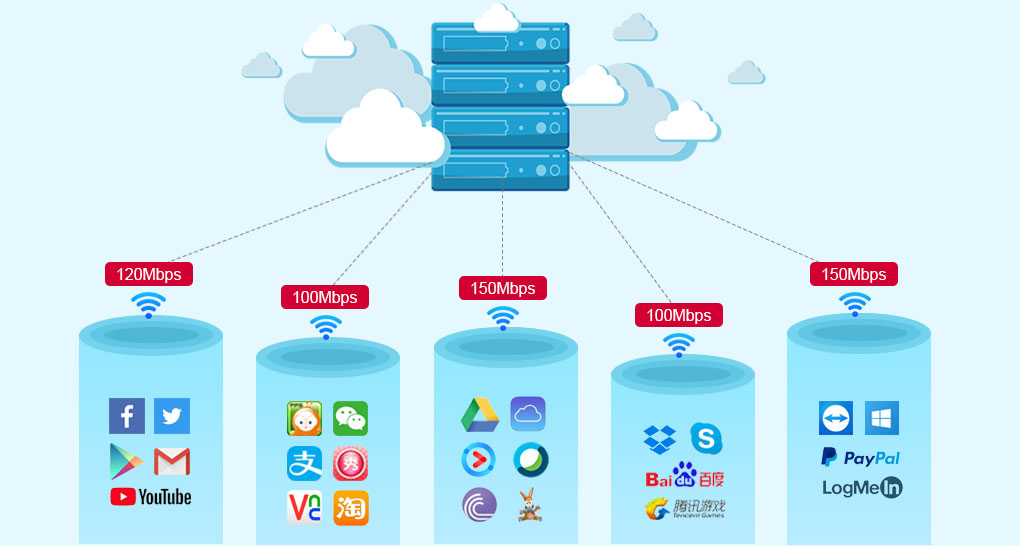 Ruijie Cloud Integration
The ONLY Vendor Offering
ENTERPRISE Cloud for SME at Lifetime FREE
Mobile App Caching Technology
Download Mobile Apps & Patches in Seconds
Model

RG-EG3250

Hardware Specification

CPU

Multi-core MIPS

Fixed Ports

8 1000BASE-T ports

1 SFP port

1 SFP+ port (non-combo)

WAN Ports

Upto 6

Flash

8M SPIFLASH

Hard Disk

Standard 1TB

Memory

2G

Performance & Feature

Performance

6000Mbps (1518 bytes)

3725Mbps (512bytes)

800Mbps (64 bytes)

Concurrent Session

600,000

Maximum

Concurrent User

2000

Recommended Concurrent User[1]

1500

Portal Authentication Capacity

1500 (Max Concurrent Users)

Portal Authentication Type

Username/Password Auth (Local, Windows-based AD/LDAP Integration)

One-click Authentication;

Guest Voucher (Ruijie Cloud required);

Seamless Authentication (Portal)

Support

App Caching

Support

Cache Capacity

100GB

Cache Resources

Windows System Patches

Network Protocol

Support TCP/IP protocols, including IP, ICMP, TCP, UDP, etc.

Support multiple routing protocols, including static routing, RIP (V1 / V2) and OSPF

Support DHCP Relay and DHCP Server

Support PPPoE Client

Support NAT and multiple NAT ALG including FTP, H.323, DNS, etc.

Support ARP, trusted ARP, proxy ARP, etc.

Support Ping and Traceroute fault detection

Application Visibility

Support self-developed 43 types of applications / more than 120 application features, customizable protocol identification:

P2P: BitTorrent, eMule, Thunder, EDONKEY, FlashGet & etc.

Multimedia: YouTube, Facebook Video, WebEx Conference & etc.

Social Media: Facebook, Twitter, LinkedIn, Pinterest & etc.

VOIP/Chat: Skype, Viber, Google Hangout, Jabber, Facebook Messenger & etc.

Instant Messaging/Email: Gmail, MSN, QQ, YAHOO & etc.

Software Update: Window, McAfee, Kaspersky, ESET & etc.

Cloud-based File Collaboration: GoogleDrive, Dropbox, OneDrive, iCloud & etc.

Enterprise Application:HTTP, FTP, SMTP, POP3, IMAP, Telnet, LOTUS-NOTES, SQL Server, Oracle, Mysql, HTTPS & etc.

URL Filtering

Support HTTP/HTTPS domain filtering
Support remote HTTP automatic URL library upgrade
Local log storage (NAT log, traffic log, URL log, etc.)
Support storage on external log server

WAN Load Balancing

Support (upto 6 WAN Port)

High Availability

VRRP

RIP (Graceful Restart)

OSPF (Graceful Restart)

IPsec VPN Tunnel

1000[2]

Network Security

Anti-ARP Spoofing
Defense against malicious attacks from internal and external networks
Support secure address binding
Block WAN Ping
Prevent Port Scan Attack
Prevent Fragmentation Attack
Prevent ICMP Flood Attack
Prevent Teardrop Attack
Prevent Ping of Death Attack
Prevent Land Attack
Prevent Smurf / Fraggle attack
Prevent SYN Flood Attack

Layer 2 Features

Support Bridging

Support LAN Port Aggregation

IPv6

Support

GRE tunnel (4 OVER 6)

GRE tunnel (6 OVER 6)

Manual Tunnel: IPv6IP

Automatic Tunnel: 6to4 Tunnel

Auto Tunnel: ISATAP

Automatic Tunnel: 6rd Tunnel

IPv4 over IPv6 Tunnel

IPv6 ECMP

Ruijie Cloud Integration Feature

Support device health monitoring status

Support centralized configuration change management & backup

Support Top 10 Application/User traffic visualization

Support device firmware management

Support event-based alarm notification

Other Features

Integrate with AAA software to support multiple authentication modes

Other Features

Service and Support

Support push advertising page

Support multi-link load balancing

Support remote HTTP online upgrade for signature library, software version, etc.

Lifetime Free signature library upgrade

Rack Height

1U

Weight

4kg

Power Supply

100-240V~,50-60Hz,0.65A

Power Consumption

<25W

Dimensions (W x D x H) (mm)

440×200×43.6

Operating Temperature

0°C to 40°C

Operating Humidity

10% to 90%RH

MTBF

>200,000 Hours
Product Datasheet
Release Note
Installation Guide
Configuration Guide
PoC Guide
Implementation Cookbook
Command Reference
EU Declaration of Conformity
Windows