Q: End user full transparency on their network status! But we (System Integrator) afraid of share them any system account.
Q: Our service contractor needs to provide temporarily technical support! How to delegate them the rights easily and safely?
Ans: Ruijie Cloud Network Sharing feature – allowing the Project Owner to share the project (network) to specific recipients (e.g. End User, Service Contractor) for technical support, network provisioning and monitoring.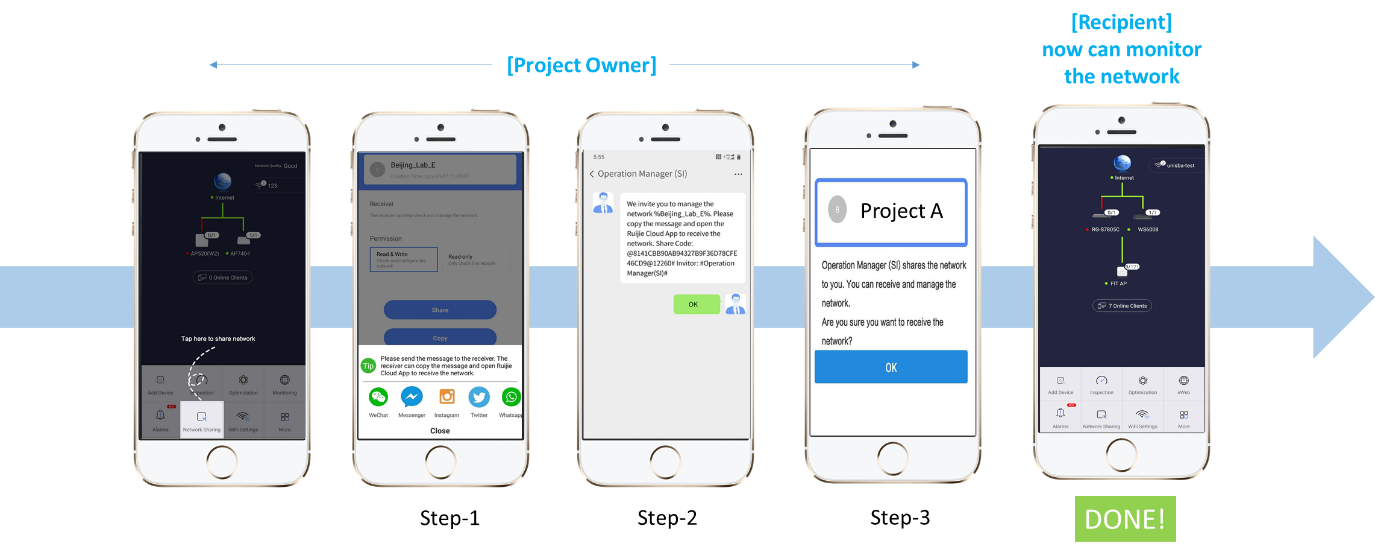 3 Steps to share specific network (Read/Write privileges)
Feature Highlights:
-Easy project management delegation
-Safe control: Read or Write privileges options
-Safe control: cancel the sharing anytime
To discover more about Ruijie Cloud Management solution, please Register our Sales Workshop at FREE, seats are limited, don't miss it !
Ruijie Cloud Workshop FREE Registration:
https://app.ruijienetworks.com:9443/admin/workshop/workshopLandingPage?ss=V293Q2xvdWRfU2hhcmluZ19FRE0=

About Ruijie:
Ruijie Networks, has been recognized by Gartner in Magic Quadrant of Wireless and Wired LAN Infrastructure. Nowadays the No.1 Enterprise Wi-Fi 6 Supplier in PRC (source: IDC China Enterprise Tracker 2019, shipment units)
For more information about the Ruijie Wi-Fi 6 More Than Fast Solution, please visit https://www.ruijienetworks.com/products/smb/cloud-service/cloud-service/ruijie-cloud-solution