On June 4th, the 31st China International Information and Communications Exhibition (PT Expo China), one of the largest and most influential information and communication events in Asia, hosted by the Ministry of Industry and Information Technology, opened in Beijing.
Ruijie Networks showcased innovative products and solutions such as high-performance intelligent computing center networks, NPO silicon photonic switches, next-generation core routers, SDN cloud-edge collaboration, 5G ToC full-scene deep coverage, 5G ToB fusion Wi-Fi industry private network solutions, 5G wireless intelligent operation and maintenance, and smart networking for households and small and medium-sized enterprises. The exhibition provided a detailed display of Ruijie Networks' technological innovation and practical application in the cloud, network, and end-three major areas, under the theme of "laying the foundation for creating a smart future".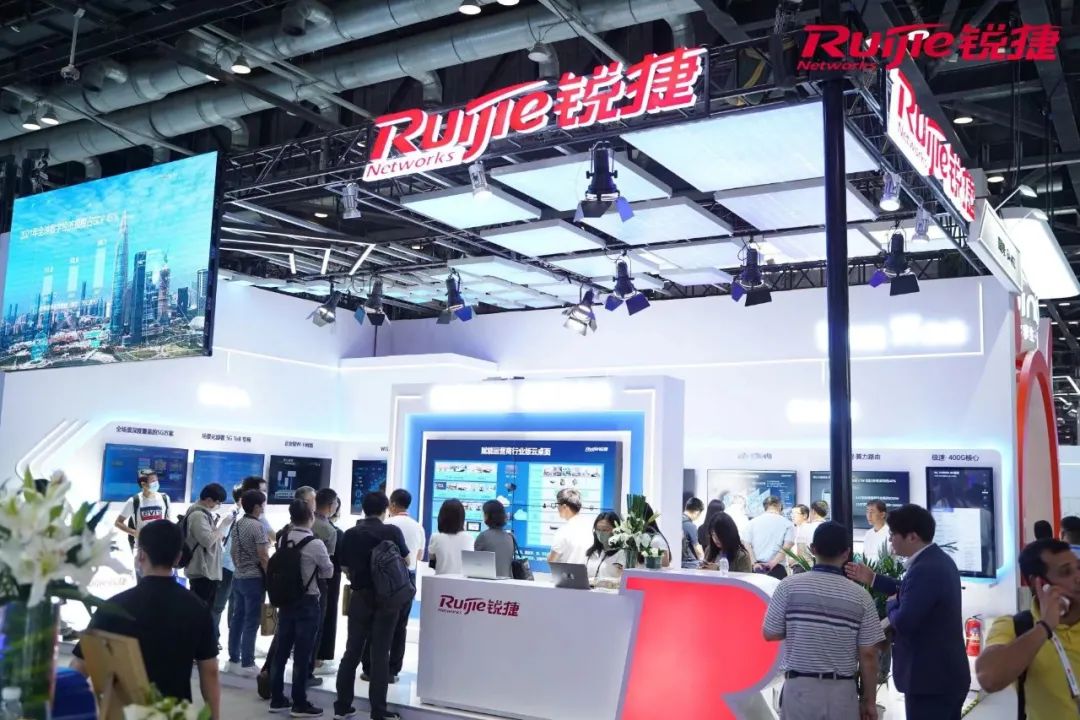 Building cloud-network scheduling with SDN cloud-edge collaboration
Ruijie Networks is deeply involved in the development of central cloud and edge cloud solutions for operator SDN cloud-edge collaboration, particularly in the area of cloud-network scheduling. For central cloud solutions, Ruijie Networks integrates SDN resource elasticity, automatic business processes, and visualized operation and maintenance, and has opened up connections to 12 mainstream cloud platforms to enable operators to achieve multi-cloud solutions. Additionally, Ruijie Networks' highly efficient next-generation data center solution based on intelligent network cards not only provides server computing offloading but also fully offloads forwarding and control layers for operator cloud solutions, improving network performance while simplifying the network architecture and decoupling network hardware. In terms of edge cloud solutions, Ruijie Networks collaborates with operators to achieve linkage between edge clouds and central clouds, innovatively realizing "edge-to-edge traffic" between edge clouds without routing through central nodes, ensuring a low-latency experience of 15 milliseconds for edge cloud users.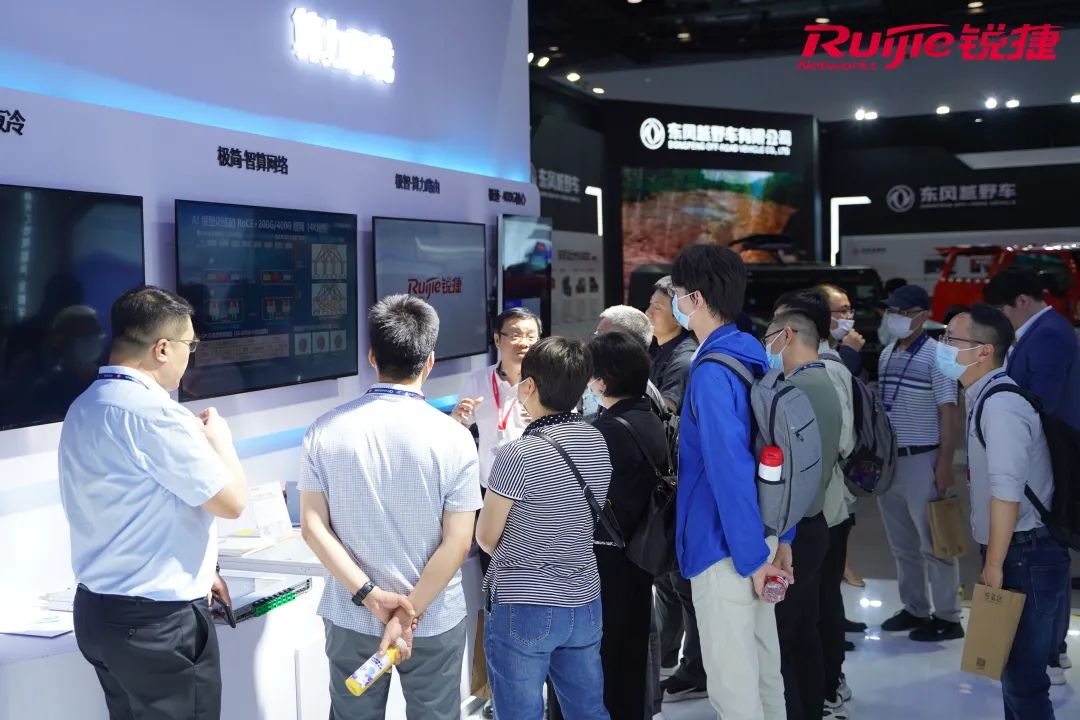 Building high-performance computing power carrying and access
【Computing power carrying · Intelligent computing network】
Currently, the construction of intelligent computing center networks is in full swing. Ruijie Networks has delivered 4,000 AI-GPU clusters with a scale of 4000 200G ports to customers based on a 25.6T 64-port 400G box-type core switch. Additionally, Ruijie Networks has delivered 8,000 AI-GPU clusters with a scale of 8000 200G ports based on a 51.2T NPO silicon photonic liquid-cooled switch, using a Spine-Leaf two-tiered architecture. To overcome the problems of PFC deadlock and ECMP balance in multi-level interconnection networking with RDMA, Ruijie Networks has launched the industry's advanced "Intelligent Speed" DDC (Distributed Disaggregated Chassis) high-performance network solution, successfully achieving a network of AI-GPU clusters at the scale of tens of thousands of cards, helping to boost computing power.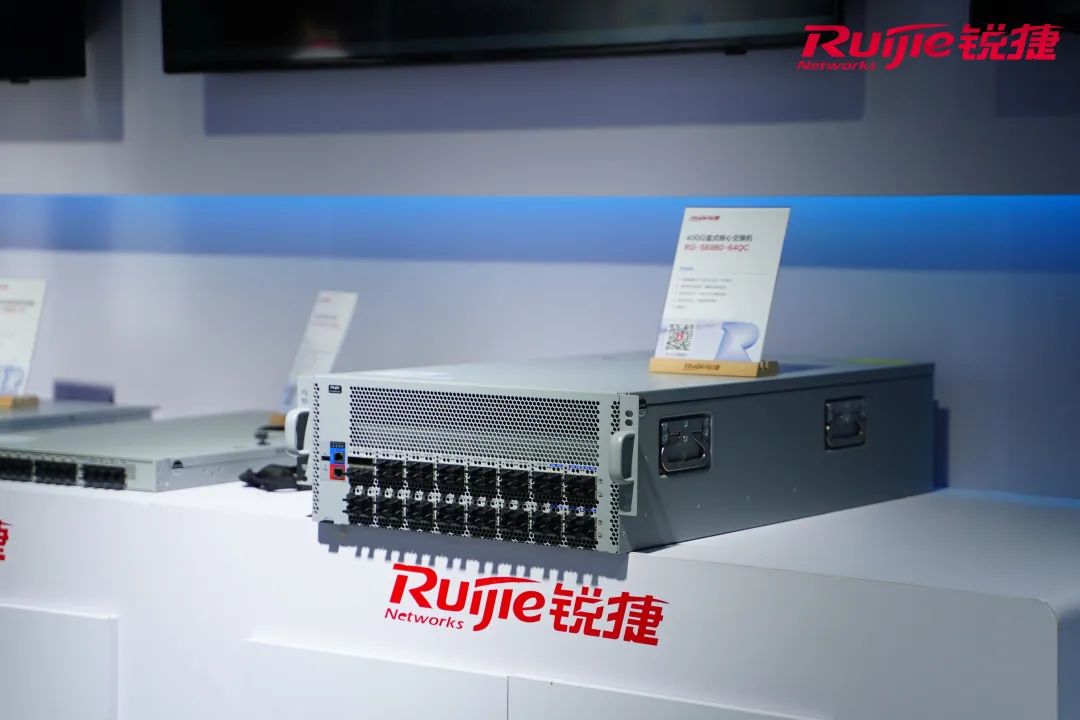 New generation data center network 400G box-type core switch
According to IDC China Quarterly Ethernet Switch Tracker 2022Q4 data statistics, Ruijie Networks' market share in the data center switch market has continued to increase, rising from 8.6% in 2019 to 16.8% in 2022. In particular, Ruijie Networks' market share in the 200G/400G data center switch market reached 58.4% in 2022.
【Computing power carrying · Silicon photonic liquid-cooled switch】
Faced with the dual challenge of higher performance and green, low-carbon computing, data center switches have encountered bottlenecks in high energy consumption as they move towards higher speeds. In addition to being the first to commercialize immersion liquid-cooled switches, Ruijie Networks has also explored silicon photonic technology and has launched two NPO silicon photonic switches with capacities of 25.6T and 51.2T. These products integrate switch chips and optical chips in a single package, shortening the serdes connection distance and significantly reducing equipment power consumption. Additionally, innovative designs have been implemented in areas such as fiber burial, inter-board connector layout, heat dissipation system design, and switch motherboard power supply design to solve the problem of high-density heat dissipation in limited space.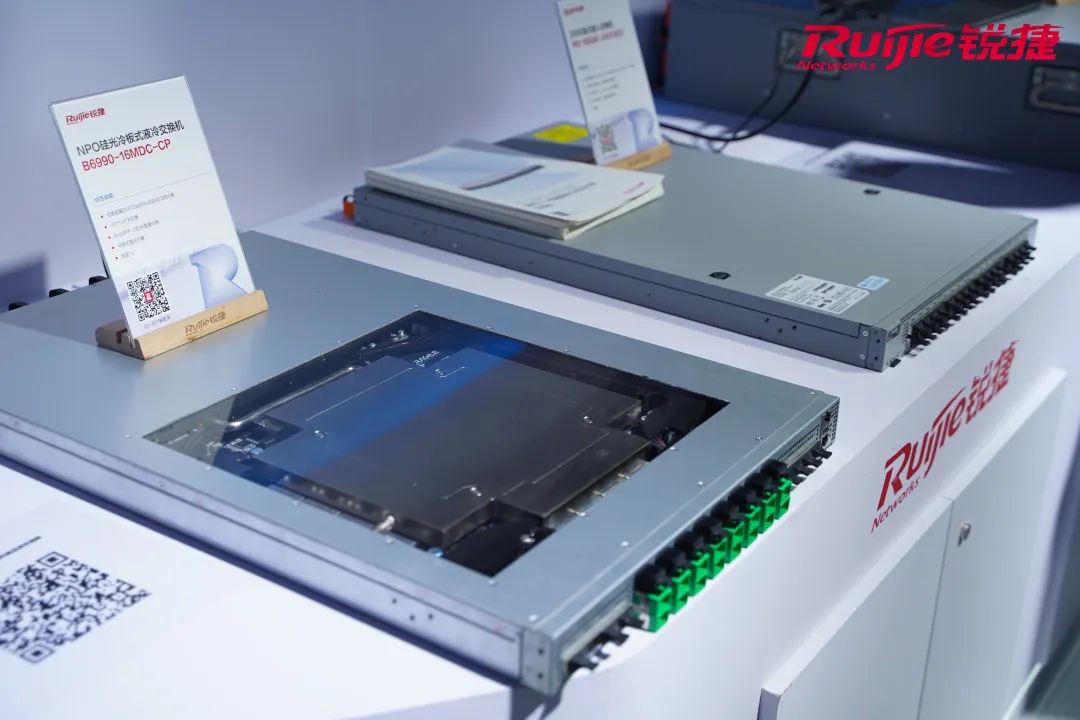 NPO silicon optical switch
【Computing power carrying · New generation core router】
At the exhibition, Ruijie Networks showcased their new generation core router product, the RG-N8000-R series router. This router adopts an advanced orthogonal architecture, supporting high-density 100GE interfaces, with a single board capable of achieving up to 800G line-speed forwarding capacity. Equipped with a new generation of chips, it ensures faster and more flexible business implementation. It can meet the needs of different network locations and provide strong support for various industries' customer enterprise WAN, cloud private network DCI nodes, and other application scenarios.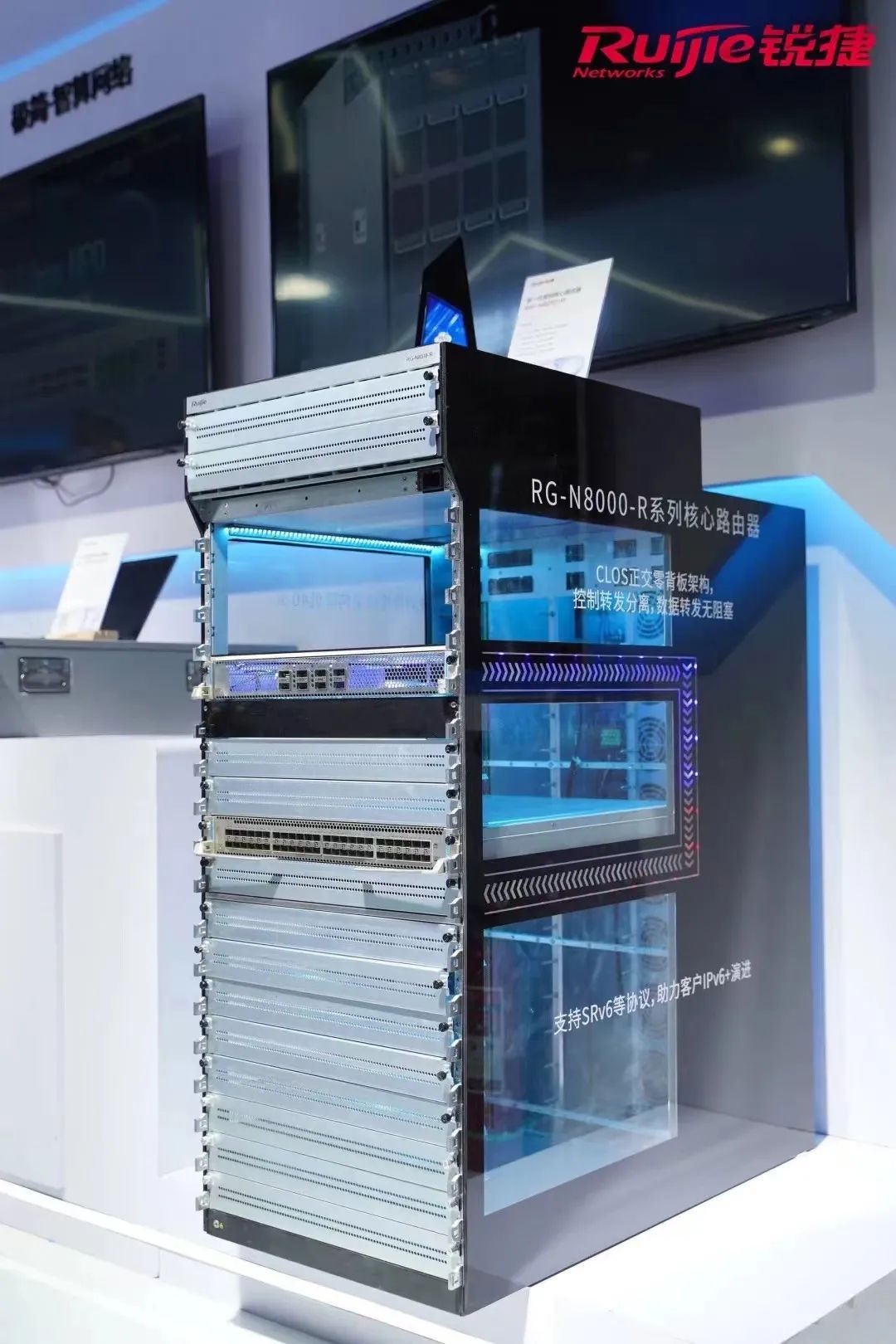 RG-N8000-R series core router
【Computing power access · Ruijie 5G digital small cell】
Since the issuance of 5G licenses four years ago, China's 5G wireless network has developed into the world's largest 5G network in terms of both the number of base stations and users. Throughout this process, Ruijie Networks has been actively involved, promoting the commercialization of 5G small cells from feasibility to actual use, and assisting in the construction of high-quality and low-cost 5G boutique networks. Combining their deep understanding of the new demands in the 5G market, Ruijie Networks has launched a full-scenario, deep-coverage 5G solution.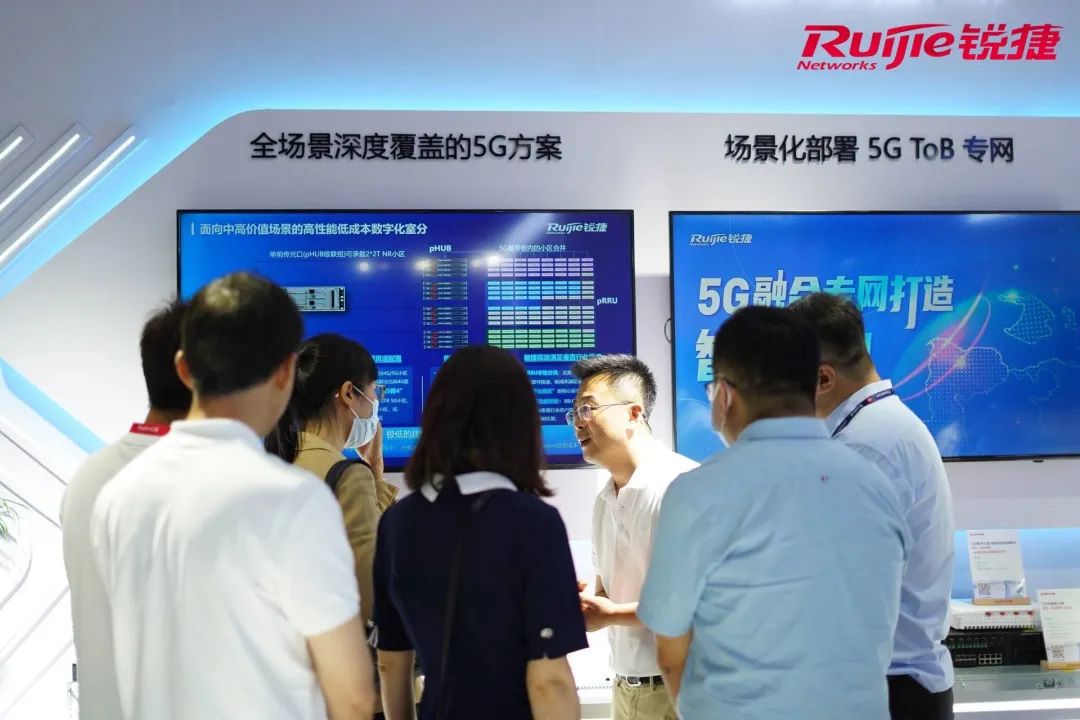 The 5G plan exhibition area of the exhibition
For indoor scenarios, Ruijie Networks' solution mainly consists of digital extended small cells, with a choice of 2-channel or 4-channel models depending on the scenario's value, supplemented by external antennas to increase coverage area while significantly reducing network construction costs. For typical coverage-oriented scenarios such as underground parking lots, a fusion micro-distribution or remote amplification system is used. For outdoor scenarios such as industrial parks, residential areas, and urban villages, Ruijie Networks has launched high-power 2-channel RRU and 8-channel RRU solutions. For coverage needs in remote rural and suburban areas, Ruijie Networks' outdoor integrated micro-station can be used to provide a solution.
Display of some products of 5G digital small station
【Computing power access ·WIS wireless intelligent operation and maintenance】
Ruijie Networks WIS cloud-managed network realizes intelligent innovation for 5G networks, from overall network planning, simple deployment, to one-stop, simple operations and maintenance. The WIS system can simultaneously manage 5G small cells, UPF/5GC, Wi-Fi, IoT, and other devices from multiple endpoints. The WIS system software adopts a cloud-native architecture and can be deployed on a general x86 platform. Its back-end big data platform has high reliability and easy horizontal scalability. Additionally, Ruijie Networks has extensive experience in authentication, network monitoring compliance, wireless value-added services, and third-party integration. Through the WIS system, users can experience a visualized network, with the network's health status presented from multiple angles, and device operation status visible at a glance. This can help operators reduce the later operation and maintenance costs of 5G network services.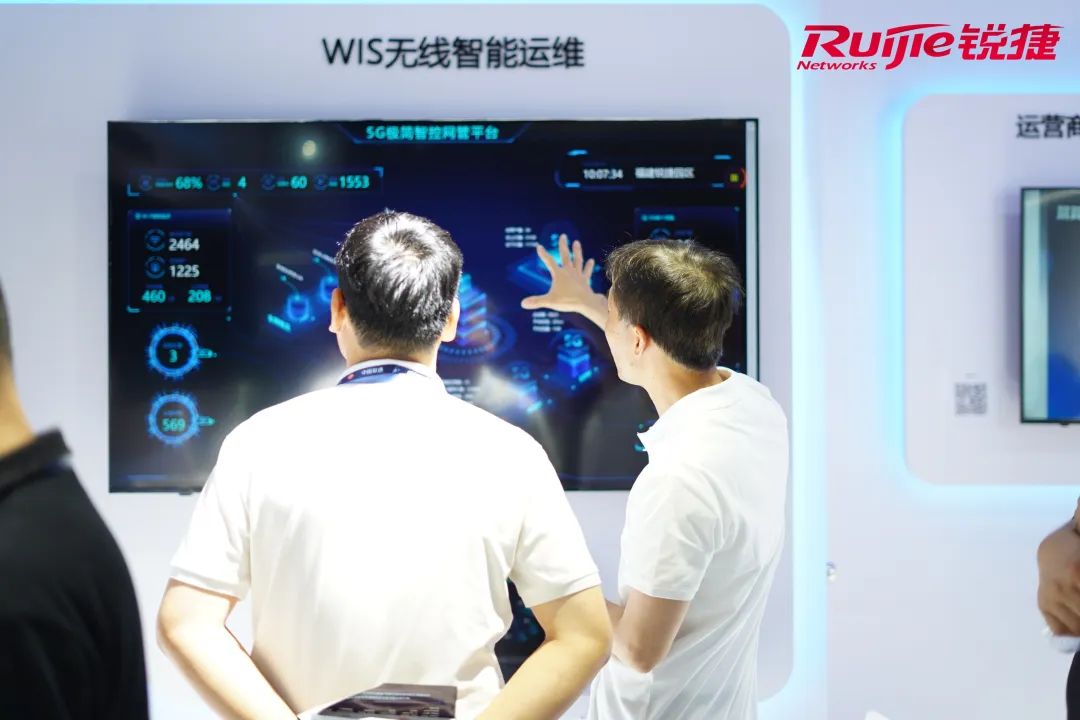 WIS wireless intelligent operation and maintenance exhibition area
Build a new experience of intelligent networking in all scenarios
In the new era of smart networking, Ruijie Networks focuses on the entire process of intelligent networking services for operators, from pre-sales to post-sales, and creates a high-perception, quality-defect analysis, and business opportunity mining platform. From business opportunities to stock operations, from precision marketing to delivery and operation, Ruijie Networks assists operators in multiple dimensions to ensure the overall home broadband service experience and value-added revenue generation throughout the process.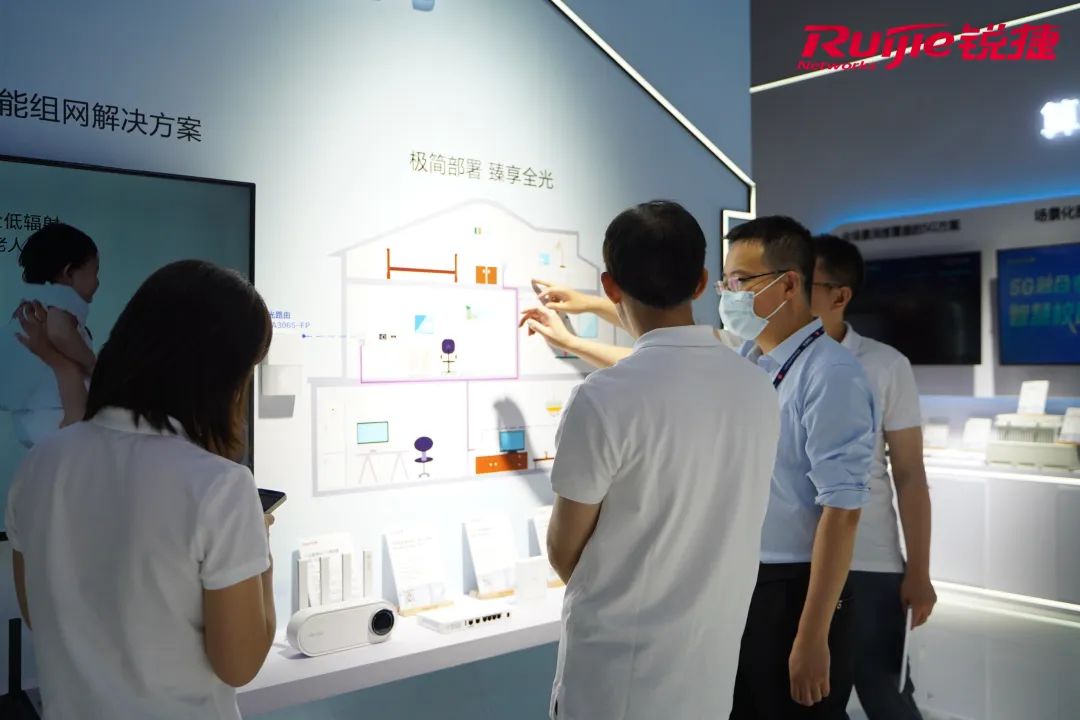 The intelligent networking exhibition area showcased Ruijie Networks' full-scenario intelligent networking solutions for homes and small and medium-sized enterprises, including Wi-Fi operation platforms, AC+AP, AX3000 routers, and full-optical networking FTTR solutions.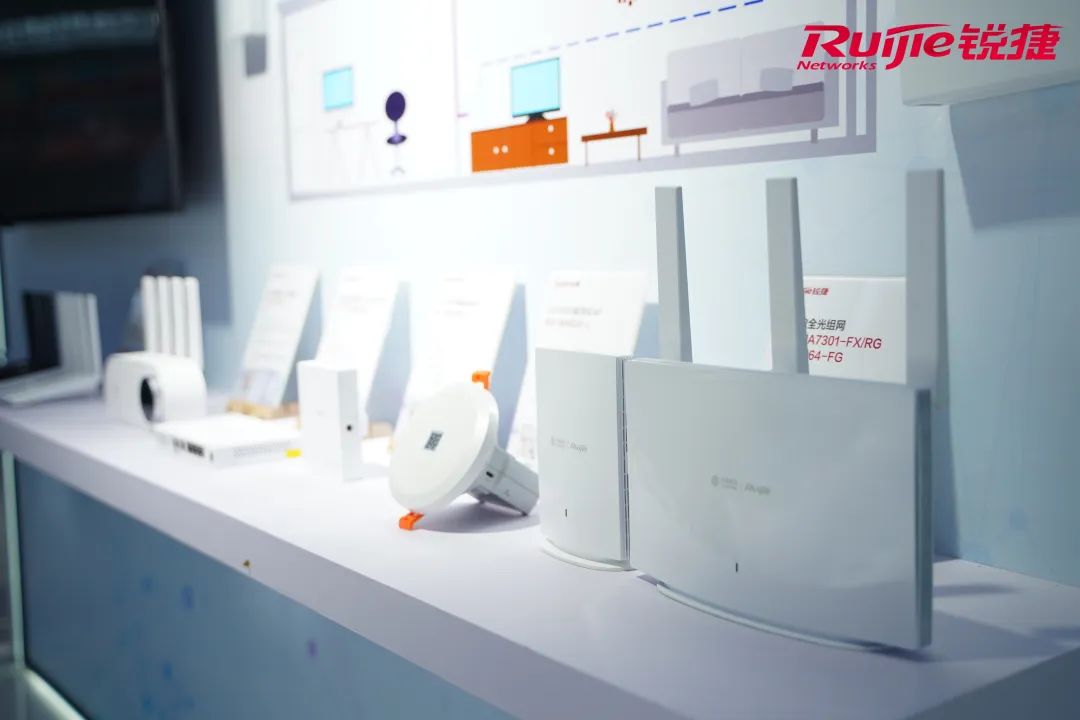 Intelligent networking solution series products
At this year's PT Expo, Ruijie Networks won three major awards, including "Top 10 Innovative Products for 5G Small Cells in 2023," "Top 10 Enterprises for 5G Private Network Capabilities in 2023," and "Top 10 Enterprises for Computing and Networking Integration Excellence in 2023." These awards fully demonstrate Ruijie Networks' deep roots in the information and communication industry, as well as its continuous innovation and steady progress towards the two key areas of 5G and computing power. Ruijie Networks has made unremitting efforts to develop the ICT industry and contribute positively to the digital economy. In the future, under the wave of the digital economy, Ruijie Networks will work together with its partners to build the cornerstone of the digital network and create a new future of digitalization and intelligence.